The Travel Bug had been on starvation rations for a couple of years. Finally, in January 2015, the time had come to set that critter loose again. And thus passed the following two months: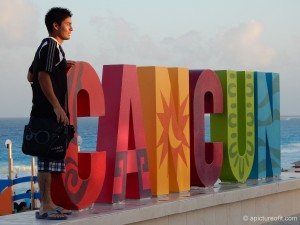 The plan:
30 days in Cuba starting and ending with Havana
30 days in Southern Mexico, starting and ending with Cancun
The reality:
–skipped Havana at the end, why leave Viñales a minute sooner than necessary?
–went on to Valladolid at first dawn on return from Havana to Cancun. Cancun is just where you fly in and bus out.
The itinerary, as it developed, as all that was planned was the above. [entries below will eventually convert to live links]
fly to Cancun – 1 night, fly to
Cuba
Havana – 6 nights; flight to
Santiago de Cuba – 4 nights; morning bus to
Camagüey – 2 nights; middle-of-the-night bus to
Trinidad – 2 nights; bus to
Cienfuegos – 4 nights; bus to
Santa Clara – 3 nights, bus to
Remedios – 1 night; fled by bus back to
Santa Clara – 1 night; taxi – share and privado to
Viñales – 5 nights; taxi direct to Havana airport
flight to Mexico
Cancun – 1 night; early bus to
Valladolid – 5 nights; bus to
Izamal – 1 night; bus to
Mérida – 6 nights; bus to
Campeche – 2 nights; overnight bus to
San Cristóbal de las Casas – 6 nights; predawn van to
Palenque – 3 nights; overnight bus to
Tulum – 3 nights; bus to
Cancun – 1 night; fly home