In the US, the president is allowed to establish National Monuments which provide a protected status for "historic landmarks, historic and prehistoric structures, and other objects of historic or scientific interest". In Post-revolutionary Cuba, historical importance is instantly given to most anything relating to the many men and women who fought to free the country first from colonial rule, and later from a series of dictatorships.
Cuba is littered with memorials to these heroes, in the form of statuary, obelisks and the names of public squares. In a similar vein, Cuba celebrates the cemeteries which are filled with memories and memorials. Four of these cemeteries have been accorded National Monument status – Necrópolis de Cristóbal Colón in Havana, Cementerio Santa Ifigenia in Santiago de Cuba, and in Cienfuegos both Cementario la Reina and Necrópolis Tomás Acea.
When is an outstanding cemetery in Cuba NOT a National Monument?
Cementerio General de Camagüey
forces one to ponder that question.
The quick, easy answer seems to be that only when there are burials of heroes of the Cuban Wars for Independence and the 1950s Revolution will National Monument status be granted. So for Cementerio General de Camagüey there is no such protected and advantaged status, despite that this cemetery is the oldest operating cemetery in the country (first opened to the public in 1814) and contains numerous unique and aesthetically outstanding features.
What, then, is special about each of the cemeteries with this enhanced status that accords them special attention and protection?
Necrópolis de Cristóbal Colón
Vedado, Havana
Outstanding architecture of mausoleums
Statuary, most often of Carrara Marble
Historical importance, which seems to translate mostly to who is buried here
More about Necrópolis de Cristóbal Colón here.
Cementerio Santa Ifigenia
,
Santiago de Cuba
Most notably
mausoleum of José Martí (1853–95)
changing of the guard on the half hour
tombs of:
father of Cuban independence, Carlos Manuel de Céspedes (1819–74)
first president, Tomás Estrada Palma
the mother and widow of Antonio Maceo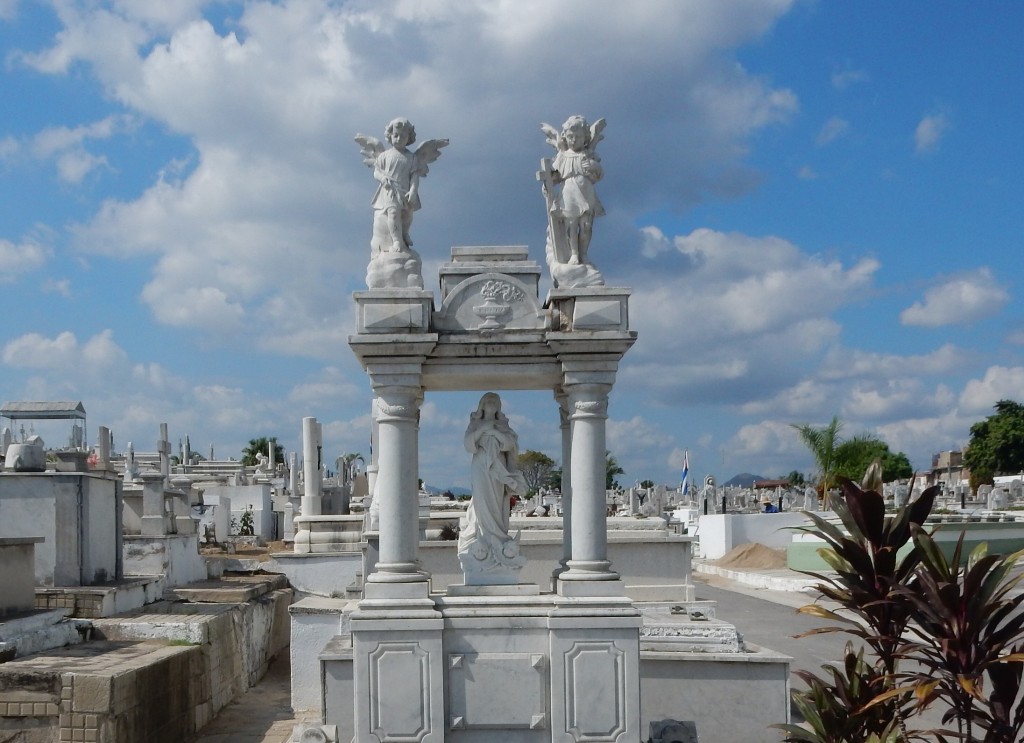 11 of the 31 generals of the independence struggles
Spanish soldiers who died in the battles of San Juan Hill and Caney
'martyrs' of the 1953 Moncada Barracks attack
M-26-7 activists Frank and Josué País
Compay Segundo (1907–2003) (Buena Vista Social Club)
Cementario la Reina
,
Cienfuegos (1837)
predominantly
Carrara Marble monuments and statuary
tombs of soldiers from the War for Independence
(1868-1878)
Best known tomb:
La Bella Durmiente (Sleeping Beauty)
Memorial to a 24 year old girl who reputedly died of a broken heart.
Necrópolis Tomás Acea
, Cienfuegos
This garden cemetery which opened in 1926 is entered by way of a portico which is modeled after The Parthenon.
Prominent monuments:
Veterans of the War of Independence
Mausoleum dedicated to the martyrs of the September 5, 1957 bombing of Cienfuegos by dictator Fulgencia Batista
It would appear that there is plenty of space to grow into in this edge-of-town cemetery. And yet, as is typical in Cuba, graves are only temporary resting places.
Memorial flower holders are salvaged from disinterred graves. At least some trace seems to remain, at least for now.
The orderly, usually monochromatic cemeteries of Cuba are very occasionally broken by disarray and by color.
But for riots of color, one must continue on to Guatemala. For both disarray and interesting color, the place to explore is Mexico.