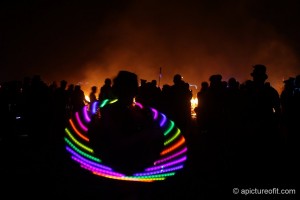 Nobody knew what to expect this year, but really one never does. That, in fact, is precisely what I most love about Burning Man, and what keeps me coming back to the dust and harshness of the Black Rock Playa.
2012 brought a new participant limit of 60,900, up from 50,000. We anticipated, then, a longer more difficult ingress, a crowded city and especially a more difficult Exodus. But so many people expected, and probably dreaded, exactly this that none of it ended up being the reality. The peak population of the city, as reported on the playa, was a bit under 54,000 on Friday. Official word after the event states that there were 52,300 participants.
After the well publicized initial difficulties of acquiring tickets, a great many tickets were advertised for sale over the last few weeks before the event. Instead of commanding a premium price, last minute tickets were being sold below their face value. Scalping and hoarding was not rewarded.
The gates officially opened this year a bit early – Sunday August 26th at 6pm. Some friends who entered the queue about 4 pm were inside the city 45 minutes after the 6pm gate opening. A 5 am Monday morning arrival took 2 hours, and reported wait times throughout Monday were reasonable as well.
Not only was the city not crowded, but there were large areas in the outer rings that looked like rural desert with widely spaced campsites. Reports of a dry, dusty, difficult to navigate playa surface turned out to be only partially true. The residential streets were thick with dust and badly washboarded by week's end. A notable lack of water trucks seemed to contribute to this problem. Our street was watered only three times during the entire week, then was hit three more times on the morning of the last day. why why why? BMorg?
But inner and deep playa were mostly a pleasure to ride.
And the Exodus? Never easier! Some freaked out, worried burners left early. Many others decided to stay an extra day and leave on Tuesday. And throughout the day on Monday the radio announced that there was no wait at all. How strange. Who knew?
Then there is the part we try not to think too much about – the clean up. Oh yes, we bring the playa home with us. In the days and weeks after the burn we must clean out every box, every cranny of our camper and gear, wash every bit of clothing and bedding, and even then we find a scent of playa dust lurking over the months.
As the playa exhaustion ebbs away we examine photos and memories and begin planning for next year.
A quick photographic look at the playa – lots more to come:
So how was your burn? Best ever? Not so? And as I begin to process my own memories and photos, I would love to hear about your highlights. What was your favorite art? What were your most memorable experiences?