2 am, Sunday Feb 14, 2010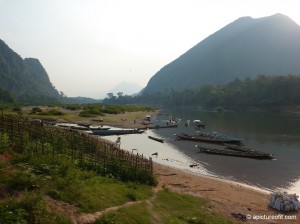 I am staying tonight at the Lattanavongsa – a solidly built building, with paper thin inner "walls". Nice enough. Rat free, bug free, clean bathroom. But it is back from the river, and lacks the charm which has so spoiled me the past two nights. I miss the river, I miss the perfect privacy of my own bungalow. I miss everything about Nong Khiaw and Ban Saphoun.
At times in tiny Muong Ngoi there are more accommodations than there are falangs to fill them. Other times every bed is filled. As in so many small places where there is rarely a way to book ahead, once in the village, you find whatever you are able on arrival. If you then want to relocate, you do it early the next morning.
To reach Muong Ngoi, accessible only by river, here is the process:
From Luang Prabang, you go first north to Nong Khiaw (Key-oh), either by the Nam Ou River (about five hours) or by minibus or songtheaw (three to three and a half hours), arriving about noon. There is a 2 pm boat which travels an hour father upriver to Muong Ngoi, but earlier boats will have already gone taking people who have stayed over in Nong Khiaw. For those arriving in the afternoon, accommodation may be difficult to find.
After two peaceful days and nights in Nong Khiaw, I had left on the 9 am boat. Arriving an hour later in Muong Ngoi, accommodation was already nearly full. Some of those arriving on the 11 am boat found beds, but others simply returned downriver after an unsuccessful search. Then the last boat came in at 3 pm. One of the guesthouses – The Phetdavanh – has a large upstairs veranda and all the homeless slept there on mattresses on the floor, sharing a single shared toilet. I heard later that it was comfortable enough, but terribly noisy, for this guesthouse has a generator and runs lights and music late into the night.
The proprietress is a young woman named Lavan who has renamed herself Penny. In behavior which is distressingly self-serving, she ignores everything that this tiny village is about, running lights when all else is dark, loud music on speakers played into the street, alcohol at all hours, noise and craziness when the rest of the village tries to sleep. The other villagers must rise at 4 am, but cannot sleep for the noise.
I talked at length with a young man who lives directly across the street. He can get no sleep, nor can his sister nor her children, nor his aging mother. There is no structure in place for the village to manage this bad neighbor who thumbs her nose at everyone for the sake of her own profiteering. She wants to install giant swings, have loud music on the river, wants to turn Muong Ngoi into another Vang Vieng, and she tries to sell this plan of hers to her young drinking, partying guests. She cares of nothing but to reap the profits that the party-mad young backpacker crowd would bring her.
Anyone who is aware of the depredation that has occurred in Vang Vieng will know the significance of this kind of abuse. In the past few years, Vang Vieng has transformed from paradise to hell, a realization I find expressed over and over, by all but the drinking, drugging crowd who have created this depraved parody of what was once a tranquil Eden. One hopes that the village is able to develop a means for stopping this greedy, selfish, damaging behavior on the part of this corroded 'Penny'.
A more recent report from Muong Ngoi suggests that 'Vang Viengization' has not yet occurred. Hopefully the extreme isolation will save Muong Ngoi from that fate.
I can take some time here in Muong Ngoi, so in the morning I will try to find a place to live which feels more like a real home again.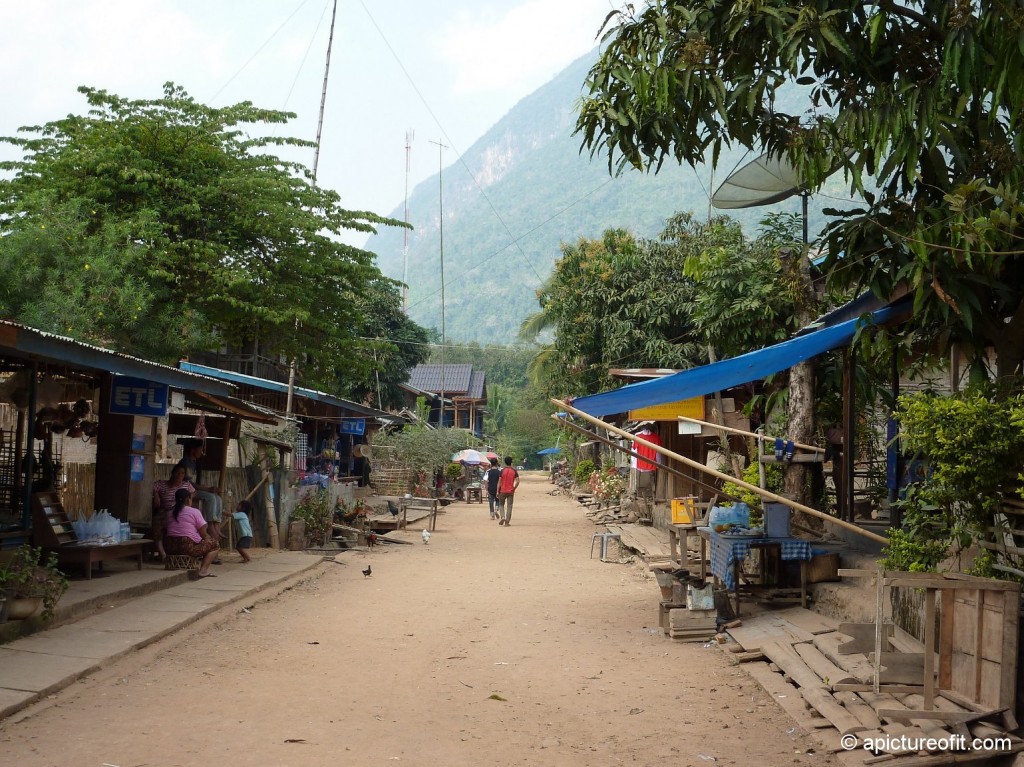 Muong Ngoi is charming for it's total lack of vehicles, even bicycles, but the people are visibly scarred by the rampant tourism which has overtaken them. Cameras send them into fits. In my first afternoon, exploring the village with camera in hand, I am struck by this impression of trauma.
The young girl who has been at the river doing laundry climbs the steps with her heavy bucket. As we approach one another, she stops and waits as if tired. But it is the camera that stops her. After getting my shots of the river below us, I drop the camera into the case and continue my walk on down toward her. When she sees this, she picks up her bucket and resumes her climb. She smiles at me as we pass.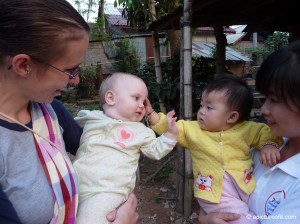 When I again climb the steps, I find two babies interacting, one Western, one Lao. The Khamu mother gives her permission for a photo, though hesitantly. But she is delighted by the result, the glimpse of pale blond baby reaching out to her dark counterpart.
Photos, and cameras, are a such different thing here. They are a despised intrusion, representing the intrusion of this new tourism so deeply into the villagers' lives.