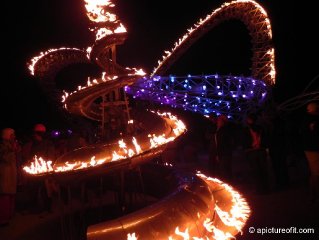 The art of Burning Man. I suppose it is a bigger part of the whole to some and a lesser part to others. I love it and use most of my energy chasing it down. The variety of pieces is amazing, from the quiet eloquence of Otic Oasis practically hidden way out in Deep Walk-in Camping to the drama and fiery passion of Tympani Lambada.
I had too many favorites this year, and I might have had still more if I could have stayed out even later at night. Many installations are only really happening in the dark – it is light that makes them, or light and fire. Yes, just too many favorites.
This year was especially rich in art on the inner playa, so much so that it was the first time ever I did not make it out to the perimeter fence at the edge of Deep Playa. Usually I go all the way out several times, even in years when the bike must be walked most of the way. Not this year. There was just too much going on close in.
One thing that made the inner playa so intense this year was the CORE project – the Circle of Regional Effigies was made up of 22 installations built by the Burning Man Regional groups. These installations were burned all at once on Thursday night. I made a valiant effort to see as many of them as I could, but arriving on Wednesday meant that time was far too short. Ouroboros, from the Austin Regional group was especially beautiful and provided a most entertaining climbing structure for the kids.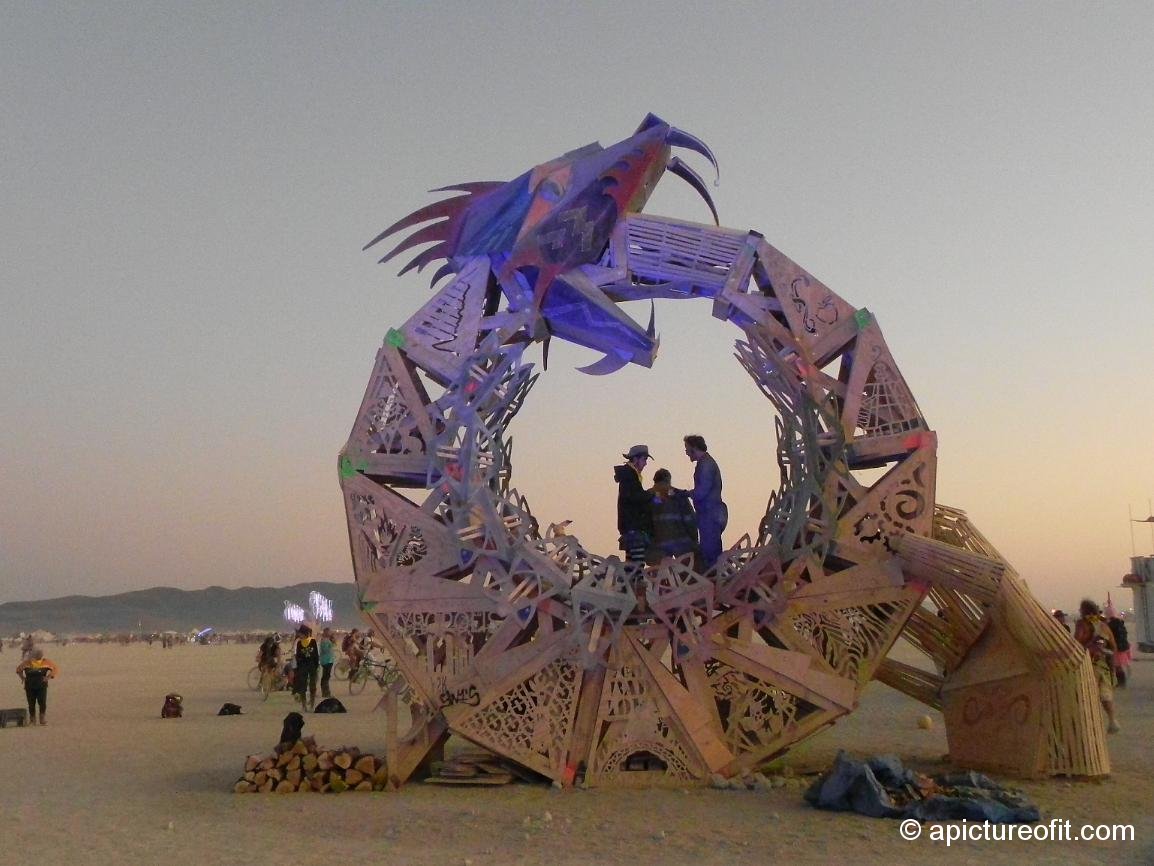 Two of the stand-out installations this year were two ear related pieces – Otic Oasis and Tympani Lambada. Tympani Lambada was a large scale metal sculpture based on the forms of the bones in the inner ear. This Flaming Lotus Girls piece was outlined in flames at night, had a flowing, flaming propane fountain and on occasion, a 50 foot high column of flaming methane. If that's not enough, the most beautifully choreographed fireworks show ever played around it on Friday night.
Otic Oasis, also named for its connection to the ear, could not be more different. Where Tympani Lambada was a wildly beautiful aural dance, Otic Oasis was gentle and quiet and removed and peaceful.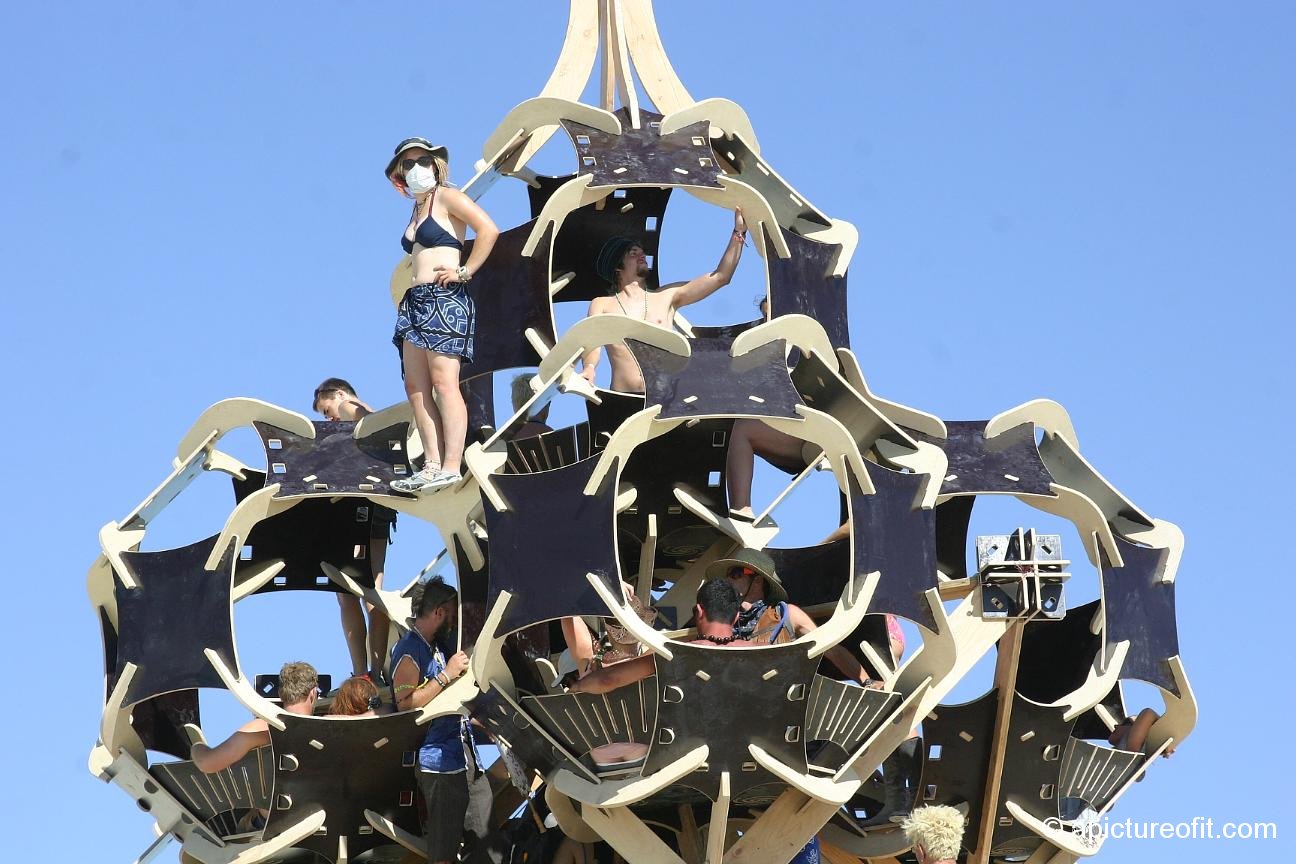 Built of furniture quality wooden pieces, it was a three dimensional jigsaw puzzle assembled on site, climbable, and with numerous little private pods throughout. The wooden pieces were all designed to fit together with no fasteners. Brilliant stuff!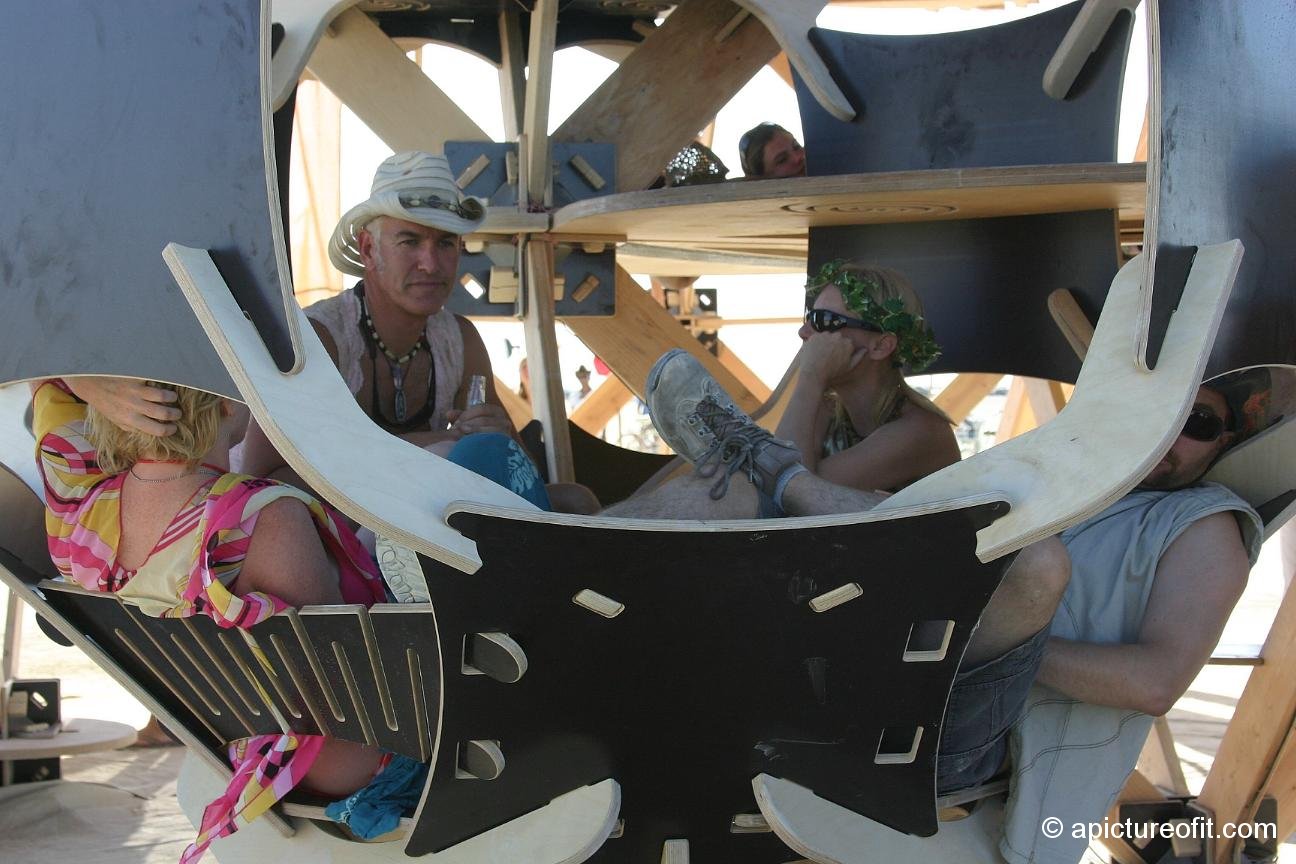 And what a site. Otic Oasis was constructed in Deep Walk-in Camping, a first ever. The Walk-in Camping area, as one would imagine, is a foot and bicycle only area.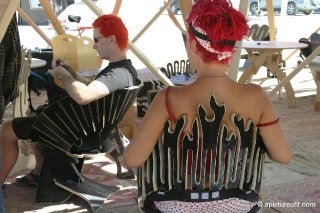 It is located at the quiet south boundary of the event space, far from the noise, and the flames, and the light. The artist – Gregg Fleishman – had also built a camp which was every bit as amazing as this structure. From a three-dimensional wooden jigsaw art car to chairs, benches, little floor rocker/seats, to his bedroom furniture – the camp was clever, functional and beautifully crafted.
During one of my visits to Otic Oasis, a piano had been rolled out to this tranquil spot. As often happens at Burning Man, the music becomes part of the experience. The piano was a perfect match for this installation with its meditative construction and location.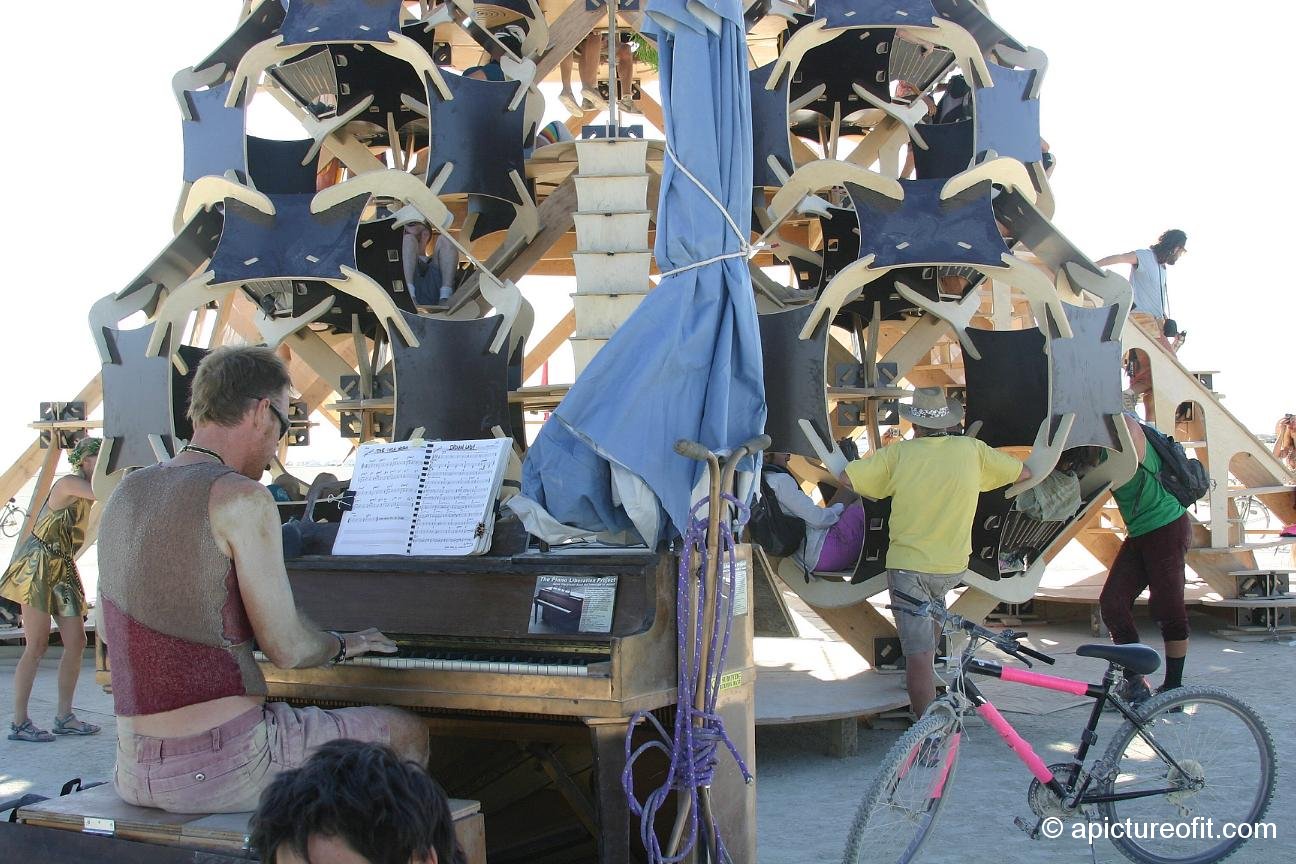 More quiet pieces – the DOTA (Department of Tethered Aviation) had a variety of projects including kites, balloons and Wind Worship.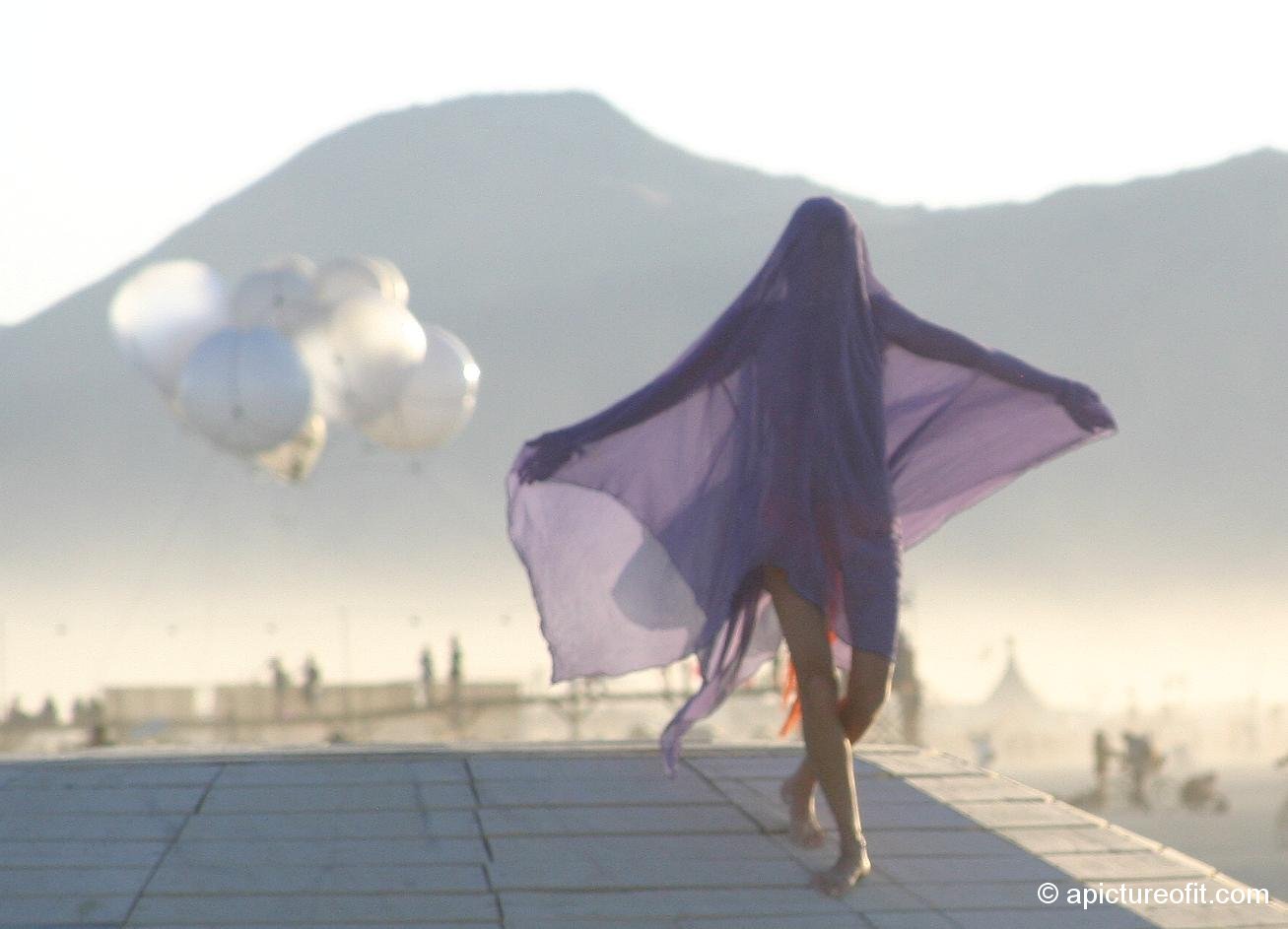 They had set up a Wind Labyrinth.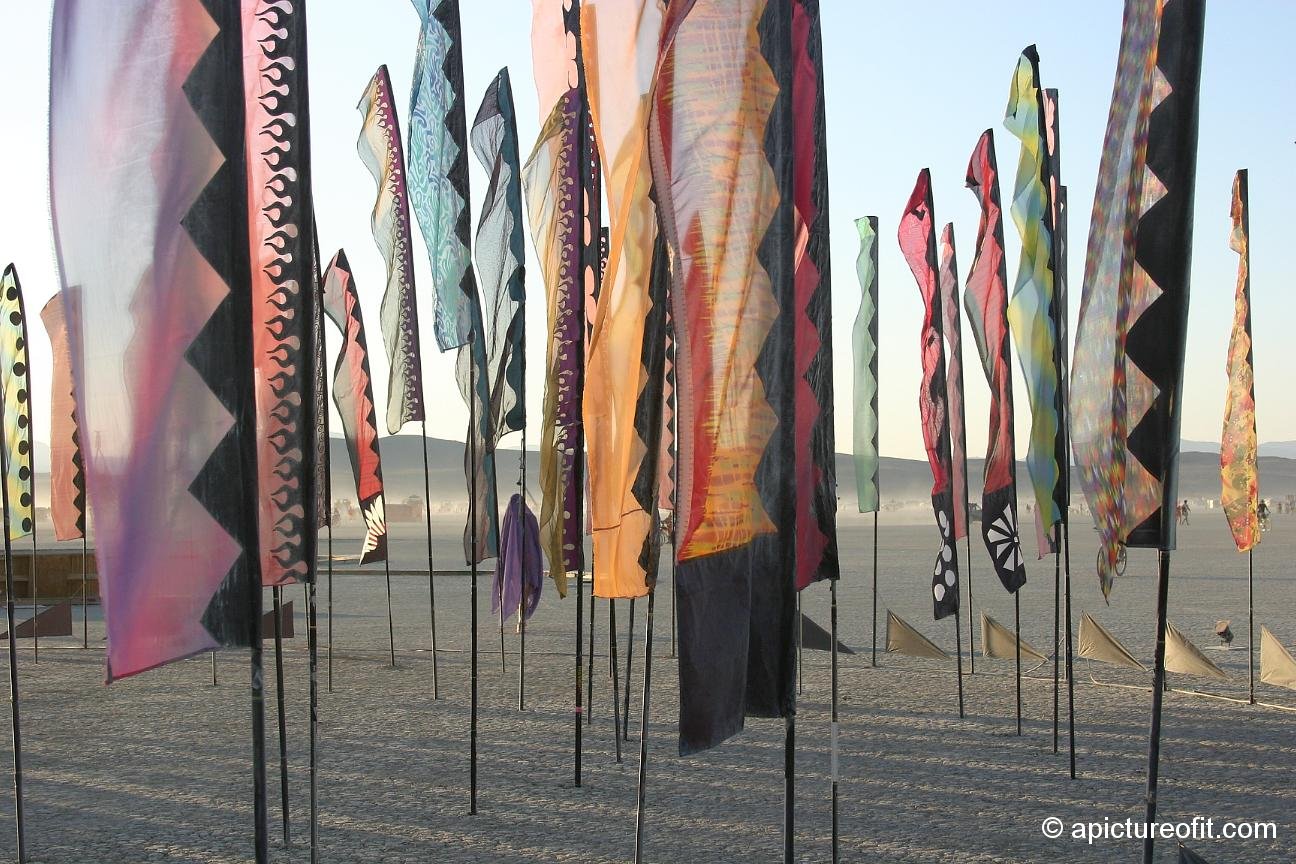 which was even more intriguing with one of their Wind Worshipers moving through it.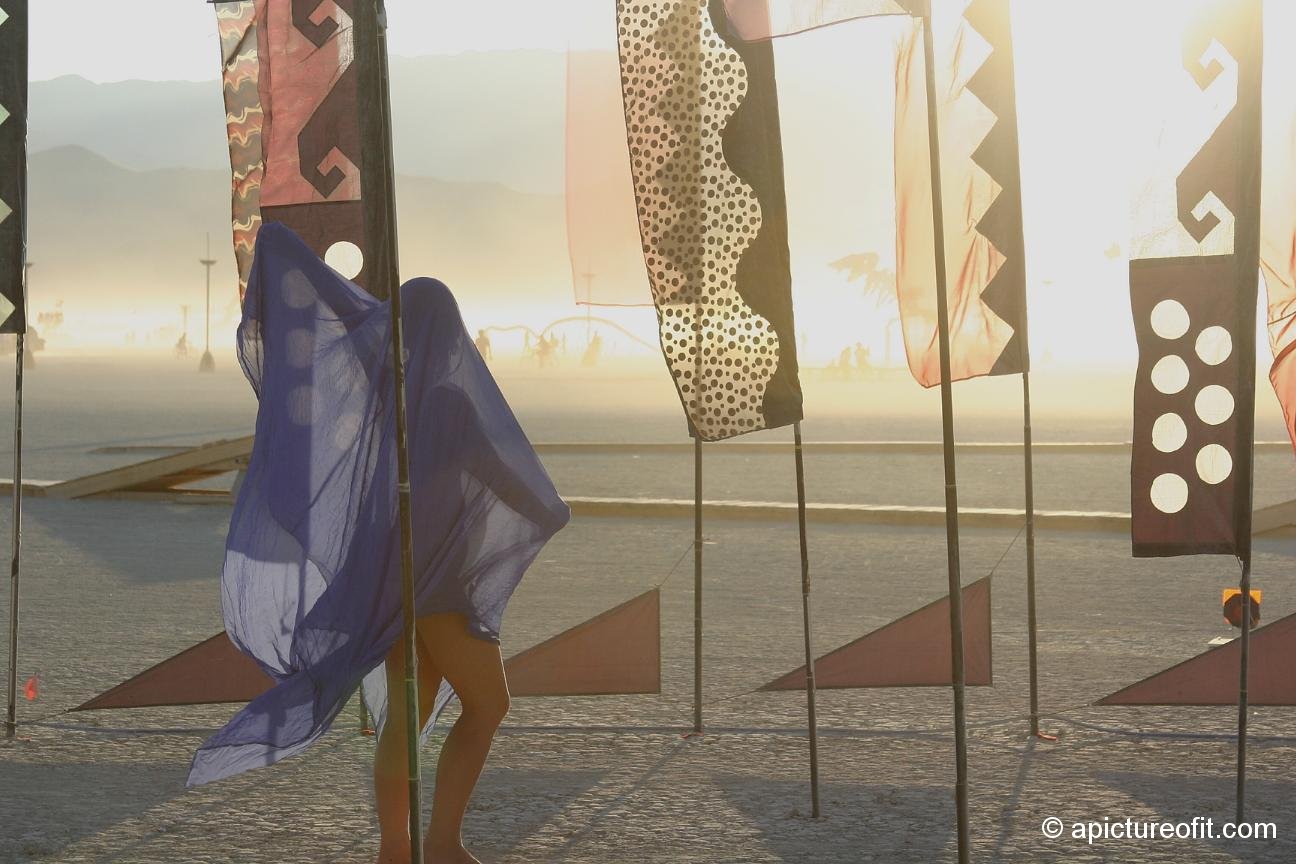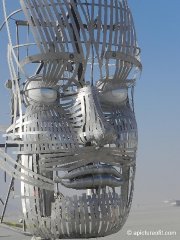 Face Forward was an ambitious sculpture in which each facial muscle was supposed to be movable. The playa has a way of breaking things, and by the time I saw it, this piece had only its interesting appearance left to ride on. I'm not sure how long it had worked, if it ever did. I'd loved to have seen the expressions controlled by the participants. Maybe another year?
And now, Tympani Lambada, by the incomparable Flaming Lotus Girls.
In the daytime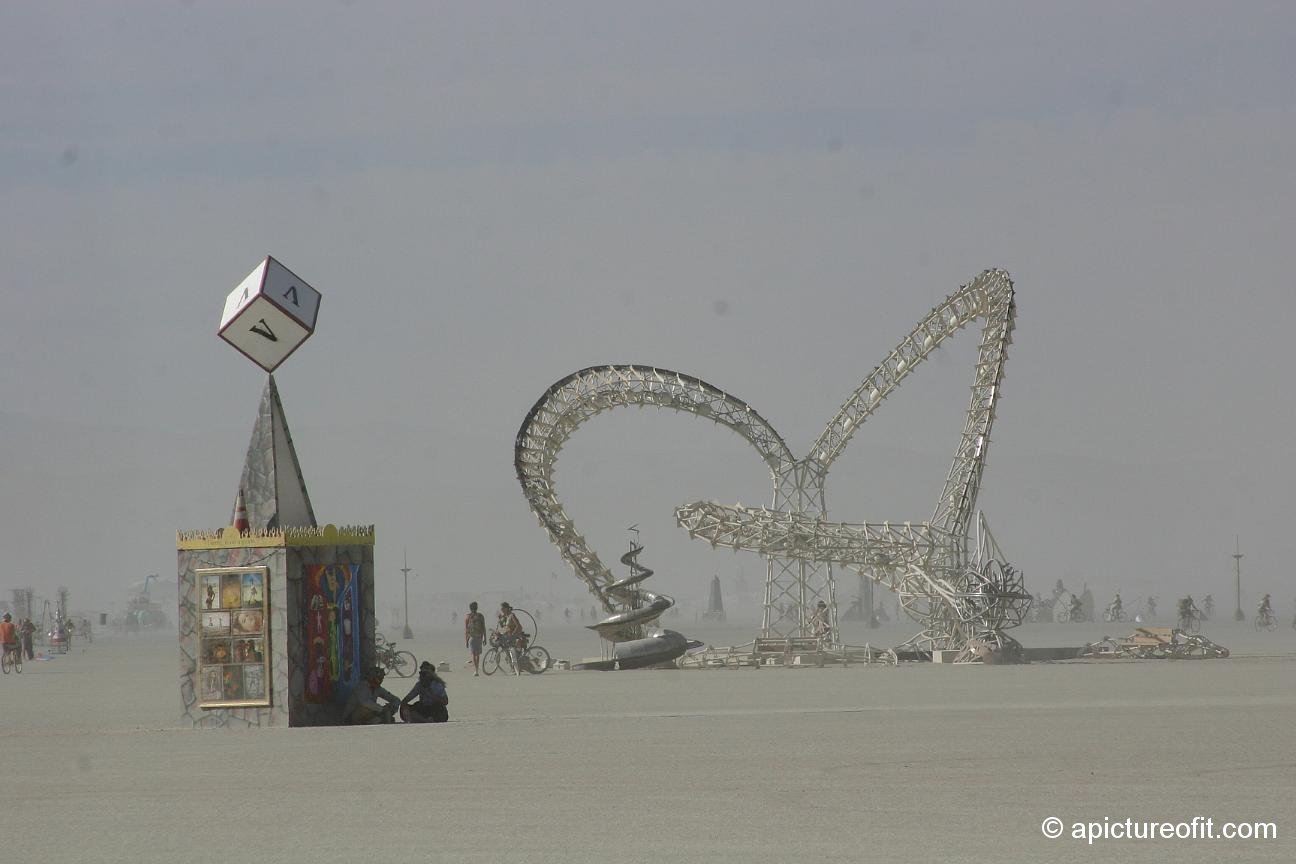 And flaming in the night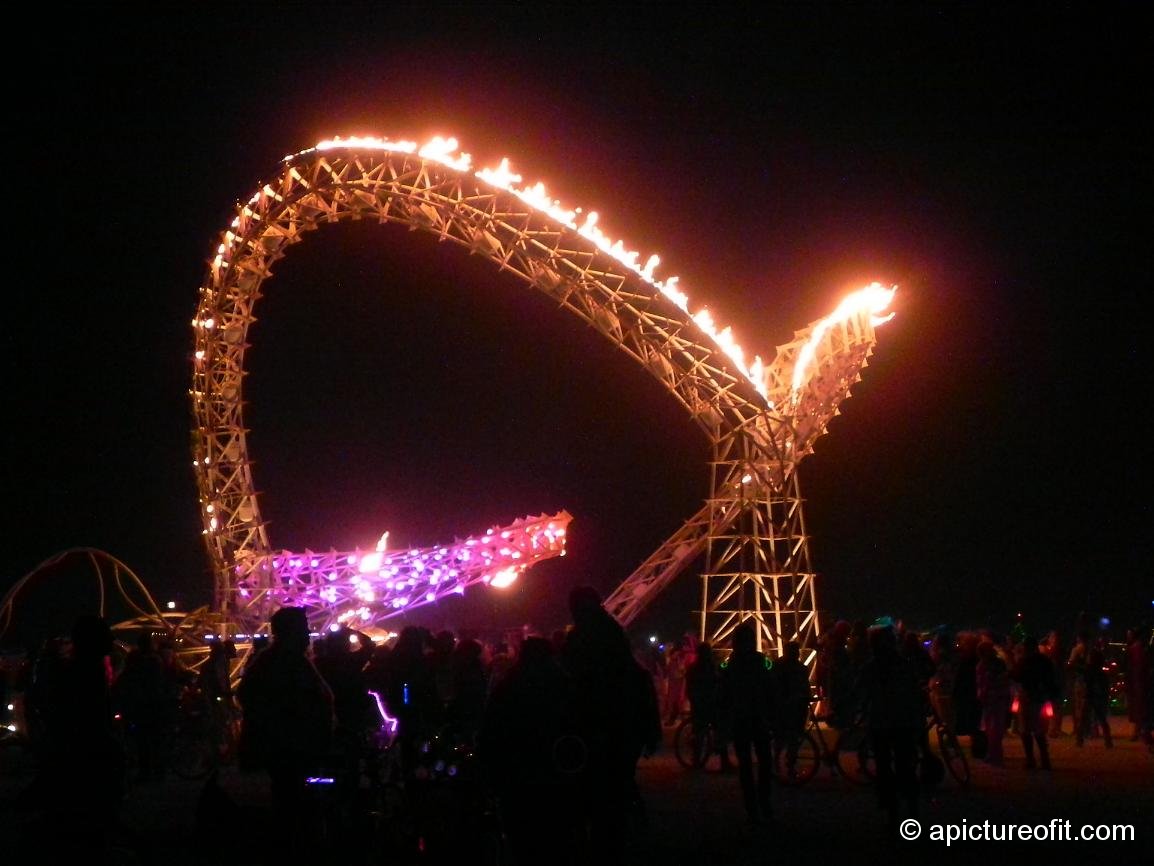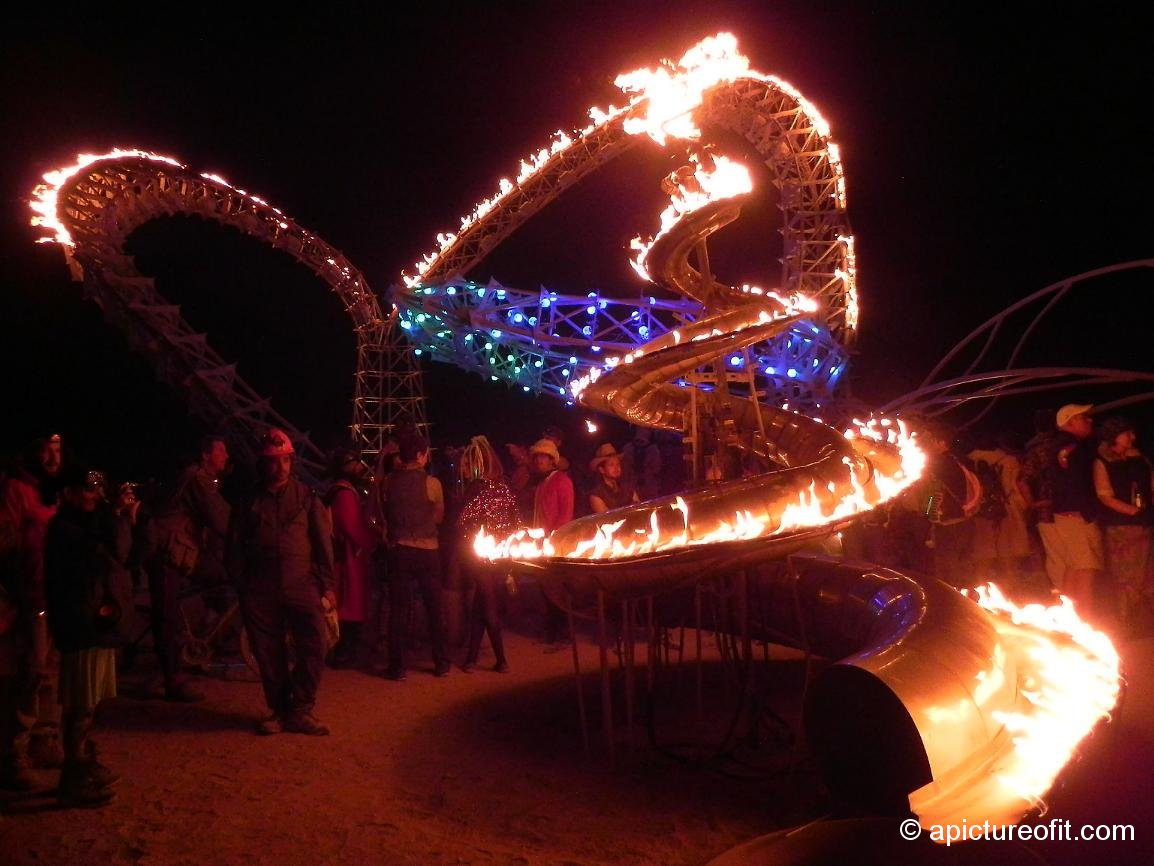 And on Friday night, before the Trojan Horse Burn, there was a most beautifully choreographed fireworks display at Tympani Lambada. This was nothing like the usual bursts of the fourth of July, nor the drama of the pre-Man Burn display. It was a dance of light and color, completely entrancing.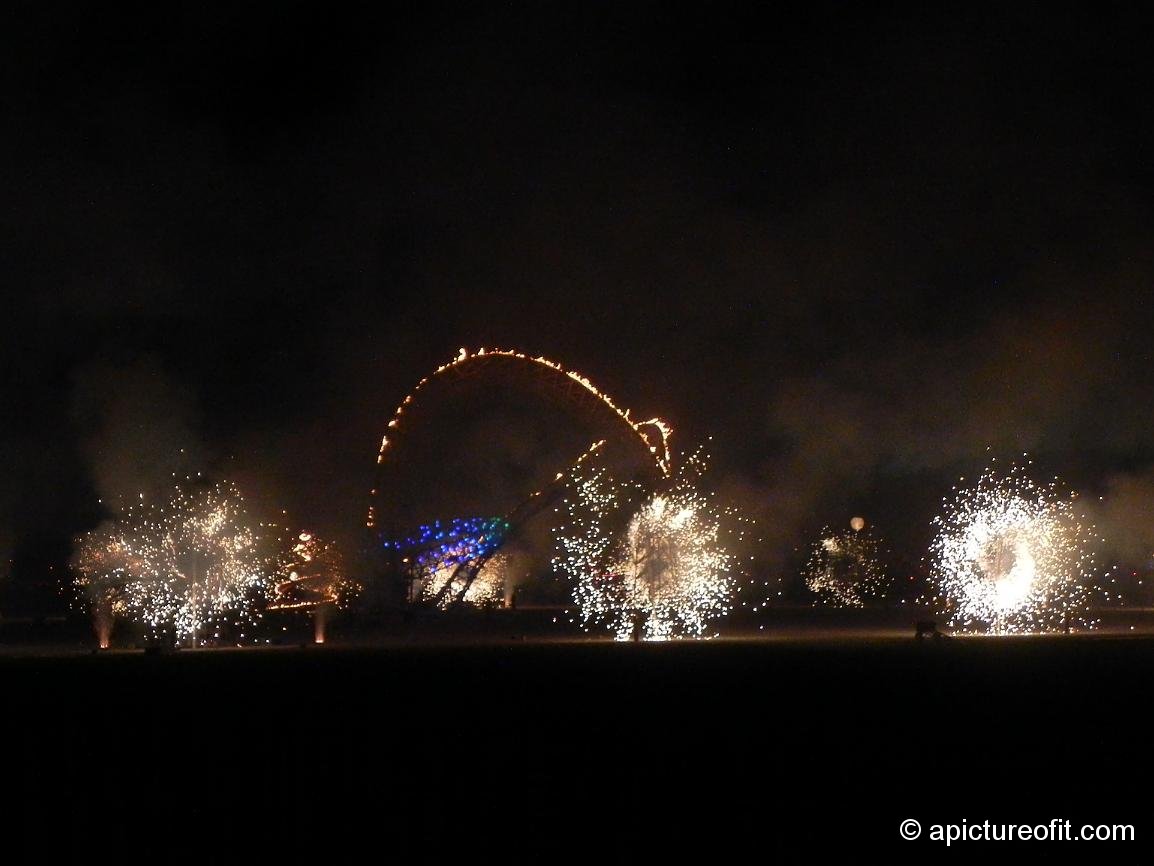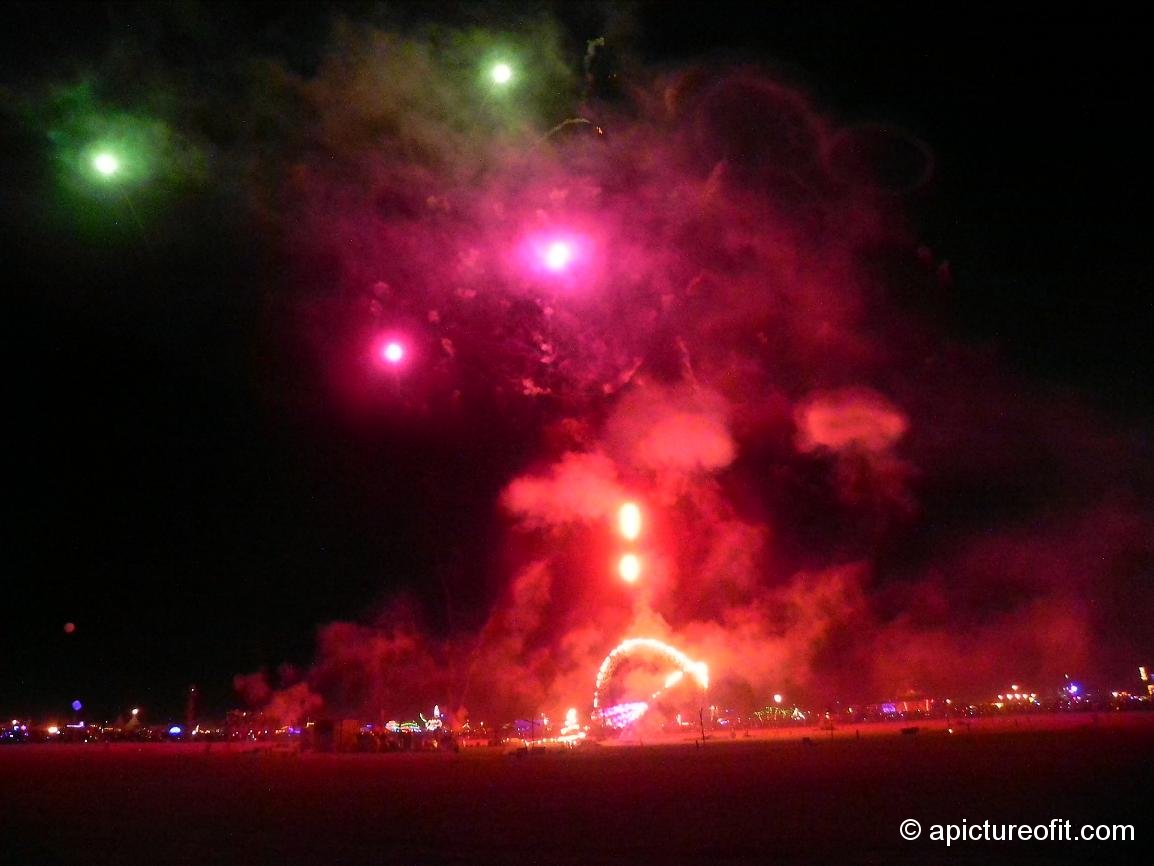 At the time, I elected this choreographed fireworks display as the most outstanding art piece of Burning Man 2011. Though it is hard to say, really, what deserves that honor for this year, I am going to stick with that for my own assessment. On a scale of one to ten, I gave it an eleven. I know that may be cheating, but there it is.