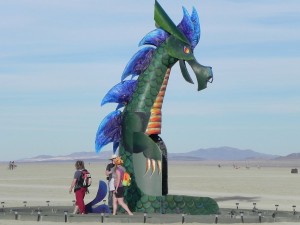 Impressions of a specific year at Burning Man are bound to be intensely personal. Was a certain year the best ever or much less than that? How much of what one remembers as good, and as less so, is determined by your own state of mind?
I think that, overall, by 2010 I had just reached a point where there was too much sameness about it all. My enthusiasm was muted, the gob-smacked wonder had passed. Though I would rank a couple of other years above 2010 for the quality of the art, the more I have gone back and looked at what was there, the more I see how my dim, dusty memories truly had been affected by my rather burnt out state of mind.  There was some wonderful stuff in 2010 after all.
Though we did not have these numbers at the time, it turns out that the event population numbers went over 50,000 for the first time peaking at 51,454. This was an increase of more than 15% from the year before. As the population grows, the city becomes more dense and complex. There is simply far too much to see. It becomes ever more difficult to feel that one can get to even the highlights in the short week of the event.
Considering that construction and setup of art installations is often ongoing throughout much of that week, and that tear down begins before the event ends, seeing and experiencing the art is truly a challenge. Many of the most interesting pieces are out in Deep Playa, a very large expanse which can be unforgivingly hot and exposed in the mid-day, and with a surface which will be often too soft for a bike. There is art throughout the main playa surrounding The Man and there are installations in all of the plazas, and at Center Camp. When I later read on the organization website what I might have seen, I wonder whether I got to even a twentieth of what was out there.
Then there are the residential streets with theme camps, and cafes and music venues, and play areas. Creativity unending. The larger the city, the more impossible the task of seeing much at all beyond your own neighborhood and along whatever routes you choose for travel.
Black Rock City Welcomes you to the Friendliest Concentration Camp on the Playa, Barbie Death Camp and Wine Bistro – We put the Barbie into Bar-B-Que.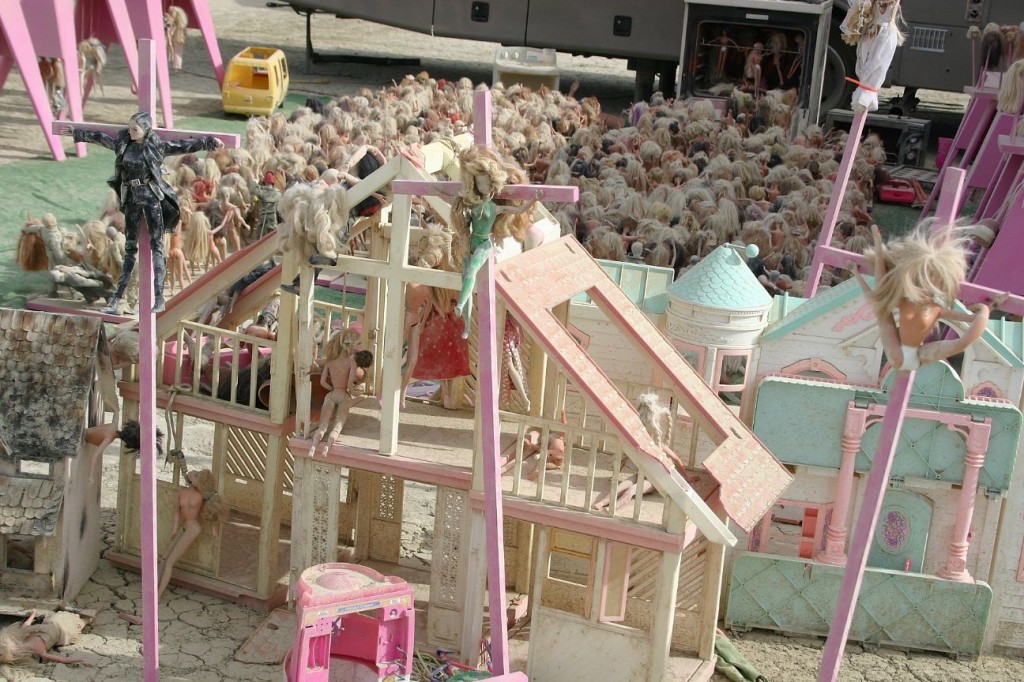 Picasso Camp has DJs and a bar, and paint and canvases for spontaneous art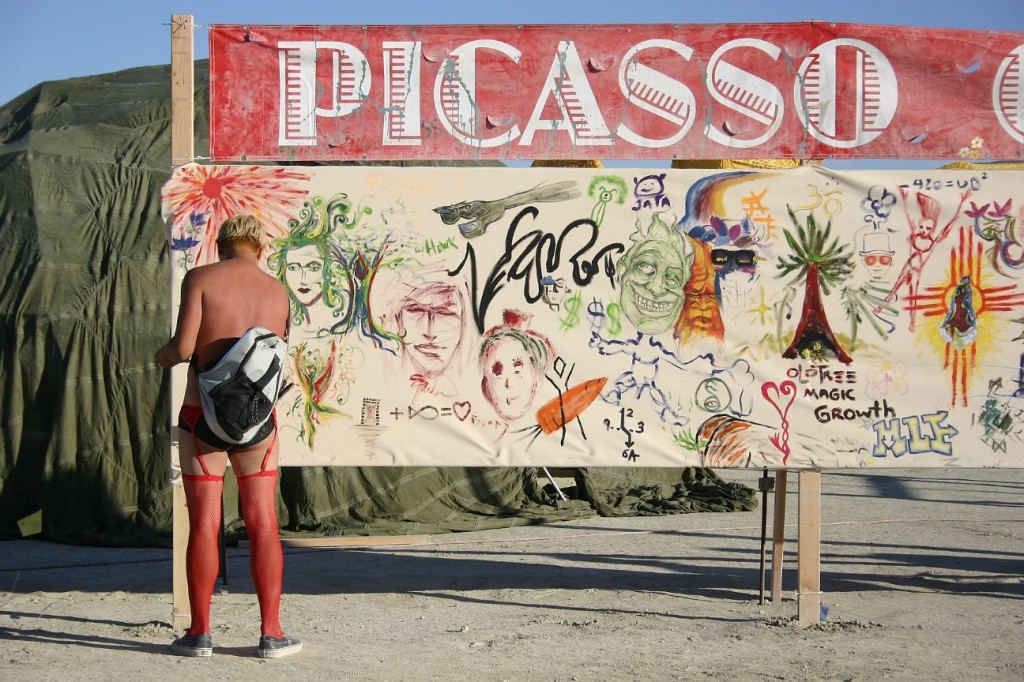 The residential areas (Cruising the Hood) are fascinating, but for me, more than anything, the point is the art. When my head turns to indelible Burning Man images, I would choose three from 2010. The theme for the year was Metropolis: The Life of Cities. In my view the most impressive Art Installation for 2010 was surely Black Rock City itself. The concept and execution of a city which exists for a mere week is simply phenomenal. And given the theme for the year, how can one not regard Black Rock City as a theme related art installation?  The life of a city compressed into such a flashingly short time, from bare ground to a spread out rural area to a densely populated city with all infrastructure in place, and then devolving, depopulating, vanishing, leaving bare ground once again.
The second standout installation for 2010, again realizing that this is a subjective view, was the temple. The temples are always quite beautiful and serve the city in a special capacity, but this temple especially struck me for its unique character and for how it played on the theme of Metropolis.
There have been two years when the temple was not an actual structure. In 2006, the Temple of Hope was a very open arrangement of structural elements which resembled the spires of a Buddhist temple. The scale was such that from a distance it appeared to be huge and very very far away. The first time I went out there, I expected a very long walk. I was surprised to find that things were not what they appeared. Of course, that happens often at Burning Man.
The 2010 temple – The Temple of Flux – was not a building like structure at all, and instead was a series of canyons. Just as a habitable city needs parks and play areas, the population also needs a more complete respite from their city environs, and what better way to find that than in wilderness. A temple composed of box canyons and caves and grottos so beautifully provided the contrast that was needed. It was there in that brilliant simulation of nature (loved the geologic layering) that I felt the art of 2010 reached its most sublime.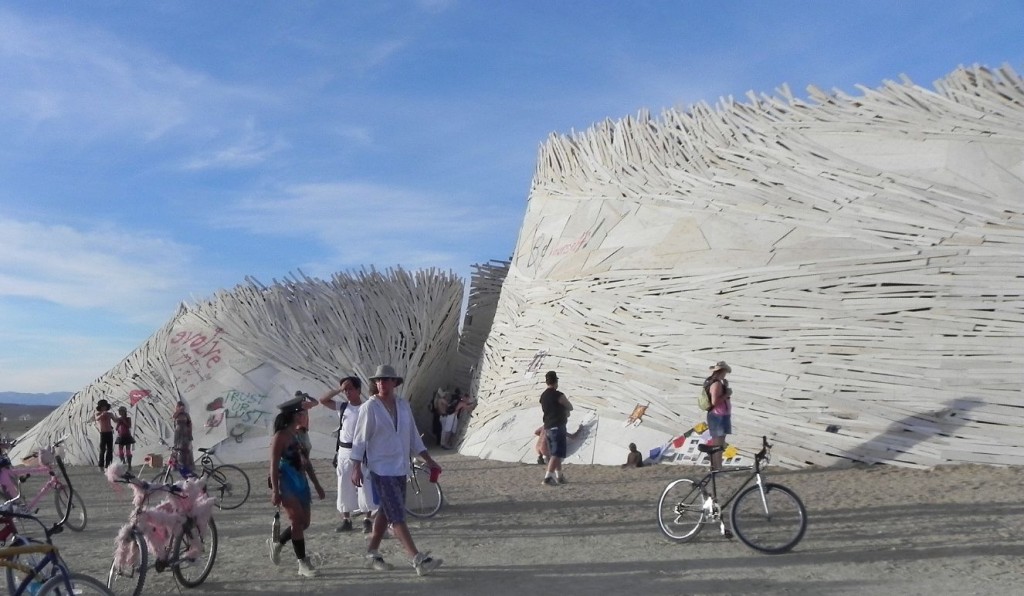 You can see much better photos than I was able to get in the Burning Man image gallery, many taken after construction was completed but before the city was opened to participants.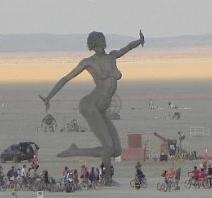 The third totally memorable art installation from 2010, the one that gathered continuous crowds which stood underneath in awe, was a 40 foot tall metal sculpture called Bliss Dance, the work of the artist Marco Cochrane.  You had a peek at the scale and grace of Bliss Dance at the top of this page.  This was the one art installation that people told their campmates about, the one which they said you just had to go out and experience, not just from a distance, but up close.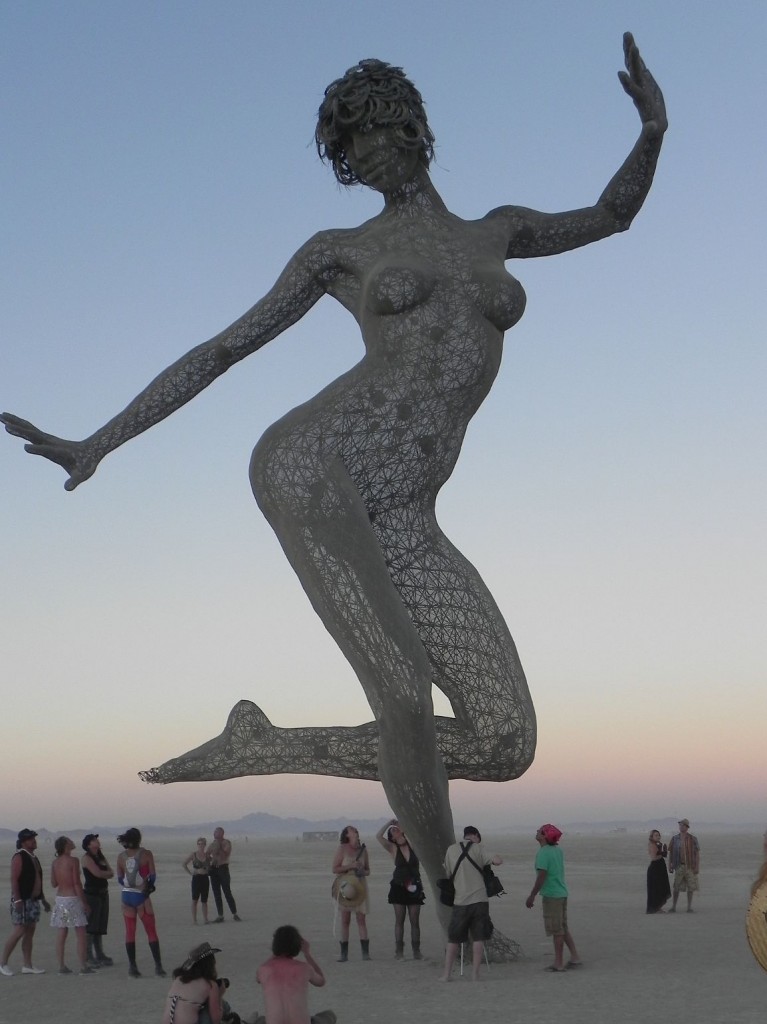 This sculpture had to be perfectly proportioned and balanced to stand on one foot like this. Standing right underneath Bliss Dance completely renewed the sense of wonder that Burning Man creates.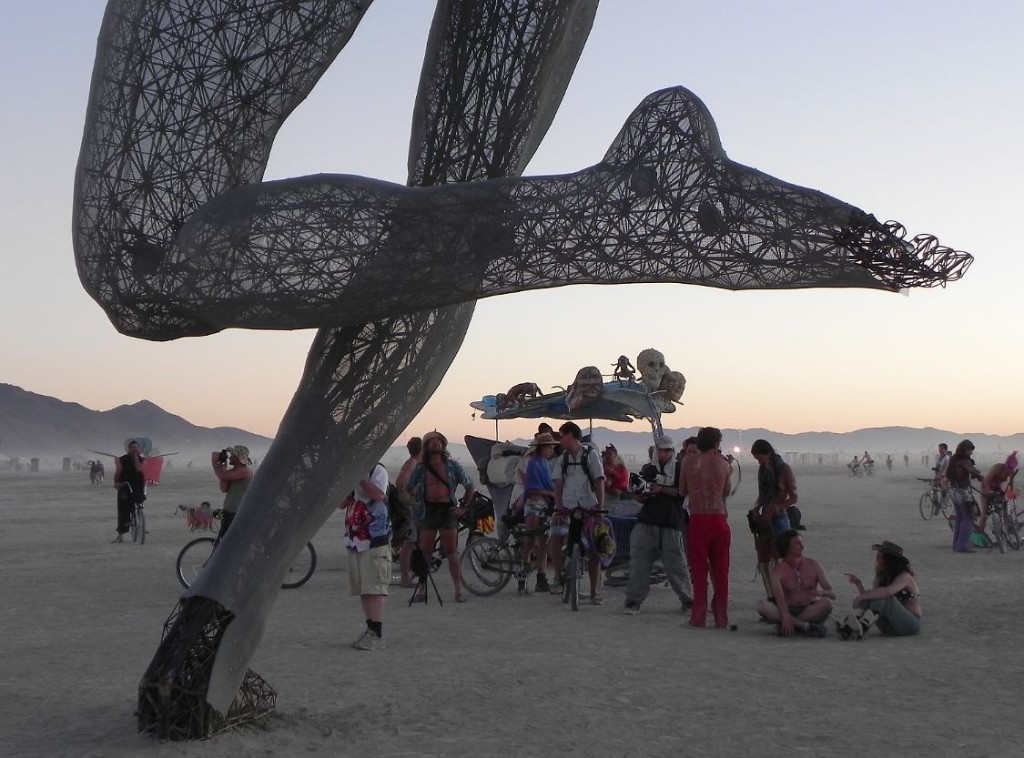 Art installations featuring fire effects are difficult to photograph
1. without a tripod
2. when you always seem to fall asleep at night on the playa
There seemed to be fewer really large scale fire installations in 2010.  In 2009 explosions of flame blasted throughout the night.  The Flaming Lotus Girls were absent from the playa, as was Shiva Vista, but the more intimate propane fueled installations were quite beautiful.
There were two fire fountain installations in 2010.
Infinitarium was a massive garden space of metal sculptures.

At night it glowed with propane fueled effects, and was the perfect place to warm up a cold body after crossing the playa on your way home.
The Crossroads was nearby. Here fire fountains floated on top of water. There were also metal pans filled with sand through which propane was pumped. Tools were provided for moving the sand around, creating patterns in the flames. Both of these installations provided both warmth and soothing, hypnotic visuals.
Nucleus was a circular wall of open metal rings.  Participants could walk through a portal and be surrounded by fire.  If you were cold, this was the quickest way to warm up, though you were not able to stay inside for very long.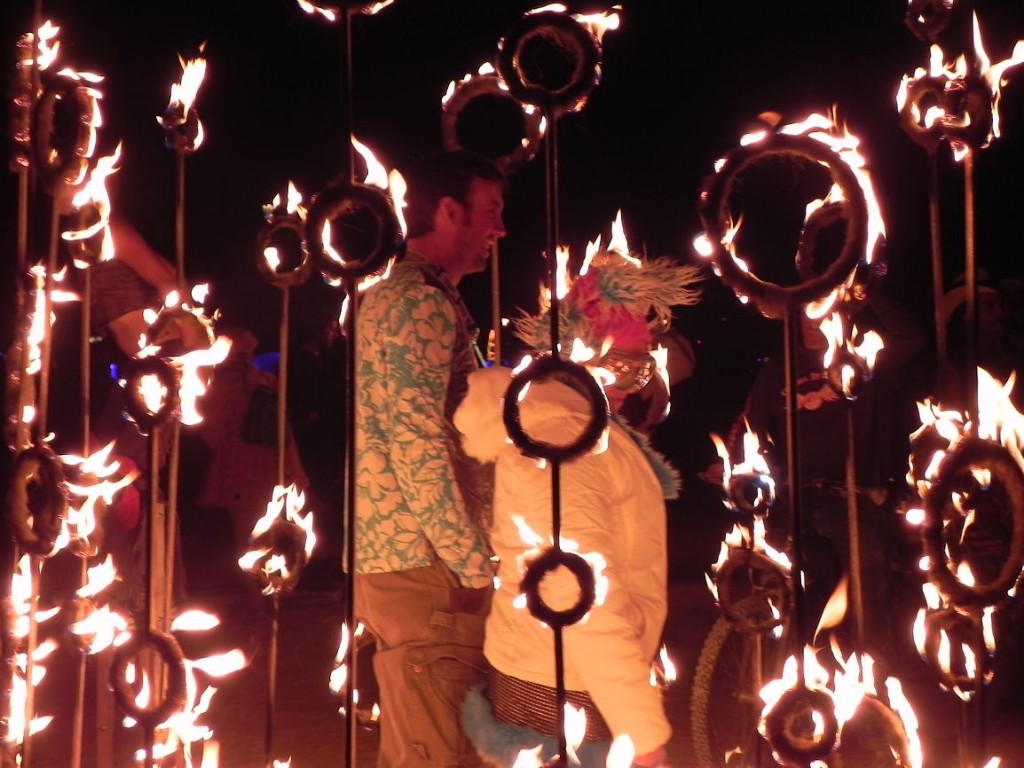 There were many other installations I found compelling. Here are a few of them.
The Black Rock Bijou was a cinema located way way out in Deep Playa. As you can see, it had shows three times per day, or I should say night. There was room for about 20 people inside on the chairs, so very few people were lucky enough to get spots. Despite the late hours, there would have been no lack of people waiting. I heard that even so it was very hot inside.  I was at home, sleeping.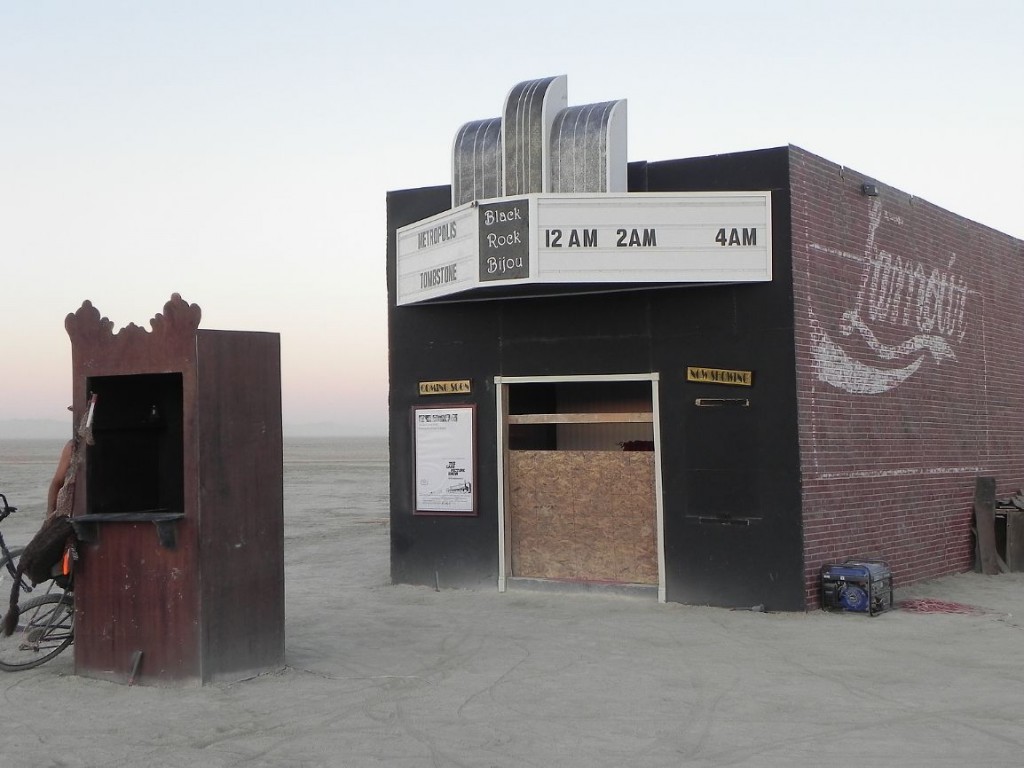 This next photo shows the kind of art that just appears on the playa. Even the Artery staff has no idea what the name of the installation is or the identity of the artist. Mysterious skulls have no doubt been found many times and places on the playa of the Black Rock Desert.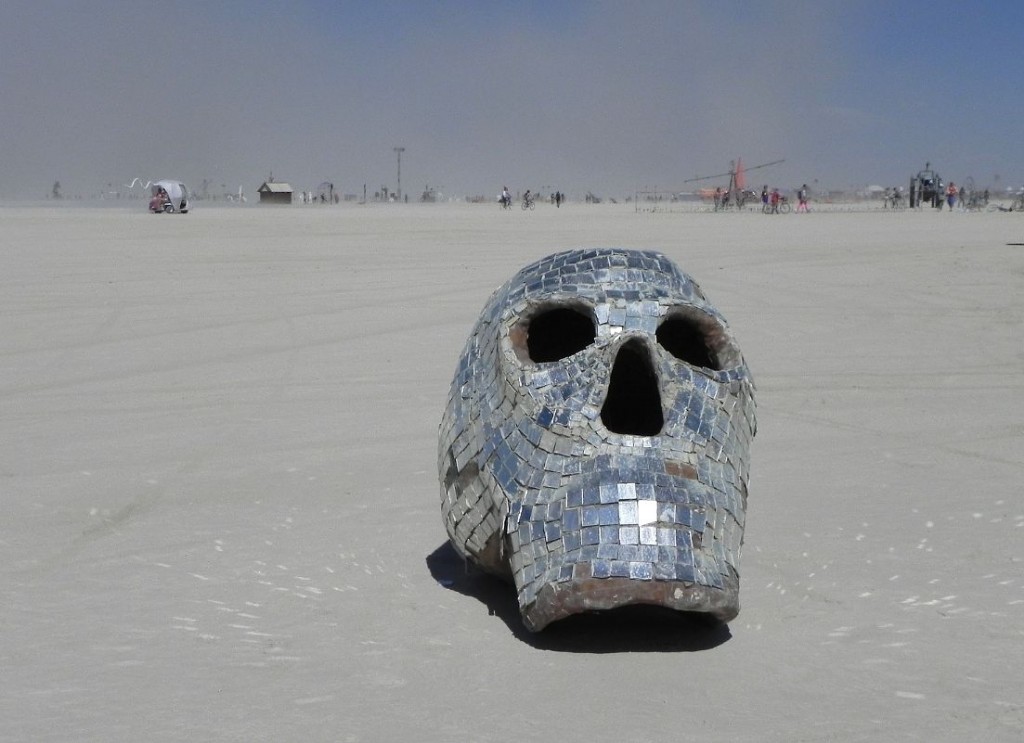 This structure was called Muse. It was a wonderful place to sit in the afternoon, with couches and shade,  perhaps a breeze, and a view from the top. A ladder led up to a third floor where I spent most of an afternoon. It was also the landmark I used to find my way across the playa to get home at night as it was located quite near where my street intersected the Esplanade.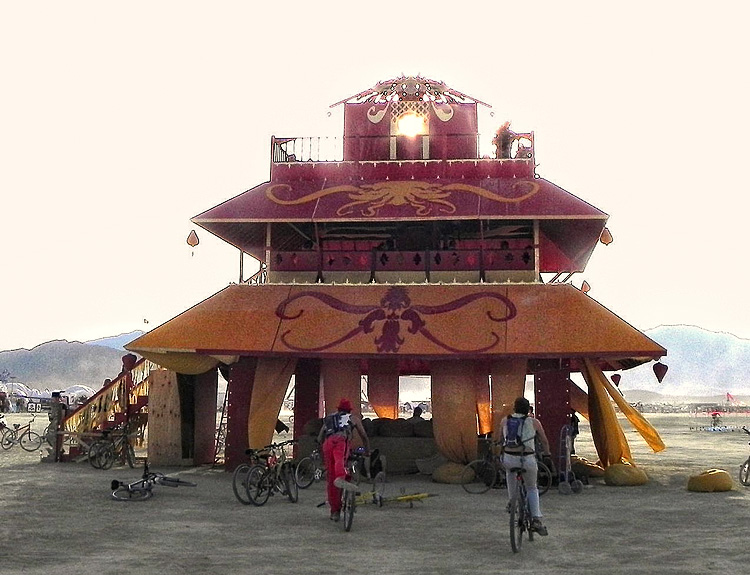 The Mantfarm was an interesting idea.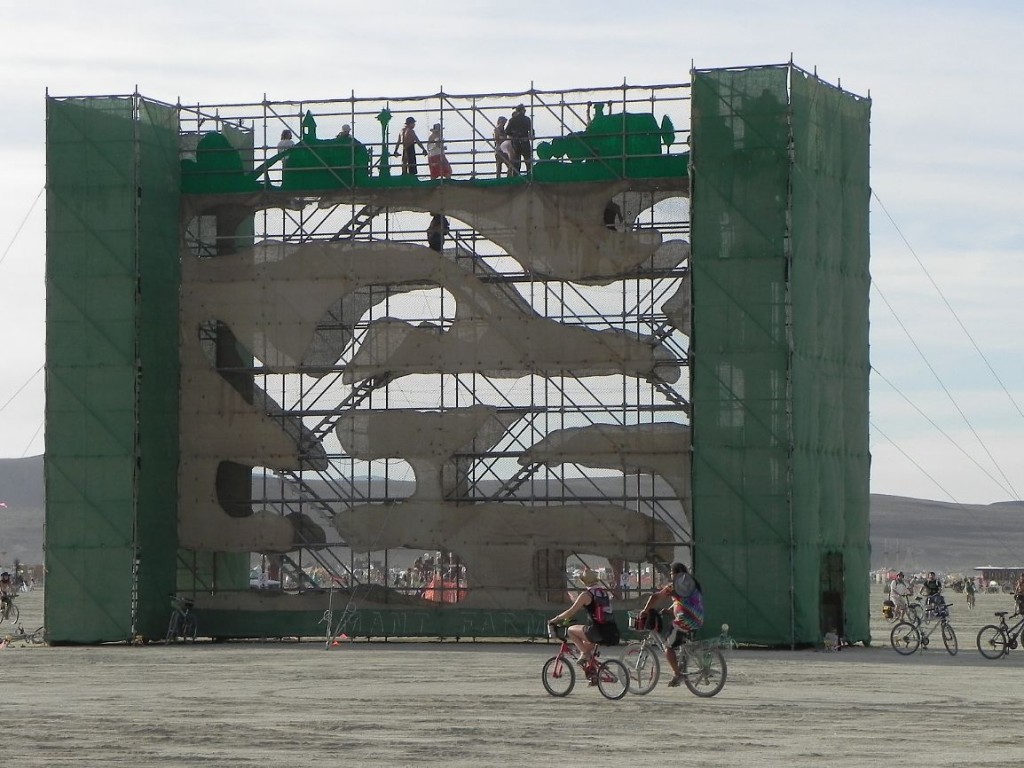 According to the builders, Sober Free Society from Seattle, Mantfarm is "an homage to Earth's first metropolis." The rest of what they said about it didn't really seem to play out. "Provides the Playa with a dramatic, immersive, interactive vertical maze where you can explore the concepts of maturation, citizenship, nostalgia, scale, and systems of communities – in a working ant farm built to human scale."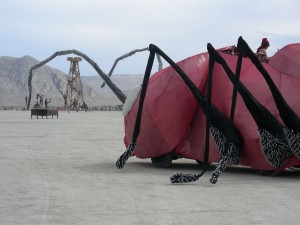 It seemed a bit too simple inside to be called a maze.  As for the exploring of concepts, apart from scale and maybe nostalgia (you did have an ant farm didn't you?), well – I didn't seem to get that.  If anyone did, I'd love to hear them tell it.
But hey, it was a very cool sight from various points on the playa and I dig the ant homage part.
These are a few highlights; there was lots more of course.  I camped with some very creative people who had installations I would like to be able to show you, but another time, eh?
So in parting, I give you The Man, standing 40 feet tall on a 64 foot base. In the base there is a designated Up Stairway, and a designated Down, and from Monday til Friday morning, you can climb up and enjoy the view from the center of the city. By Friday noon, the preparations have begun for the demolition. And the city begins to die. And so the tale of the Metropolis is told, and so it ends.