The permitted four weeks in Burma have ended.  I have spent several days in Bangkok getting feet back on the ground.  Bangkok feels like my Southeast Asian home by now.  I have feasted on familiar street food, bused out to the Chatuchak Weekend Market, gone to Pantip Plaza for black market electronics, and repacked to head out to explore more of Thailand.

So early in the morning, having left all nonessential gear in storage at my guest house, I climb onto the local bus headed for the northern bus terminal.  A couple of hours later I am on my way in air-conditioned comfort to the ancient city of Sukhothai in central Thailand, about a half day bus ride north of Bangkok.
I find a pleasant place to stay in the new city, and walk the streets, enjoy the ever-present delights of the Thai street food, explore the river, and arise in the morning to catch the local commuter bus for the 20 minute ride to the old city.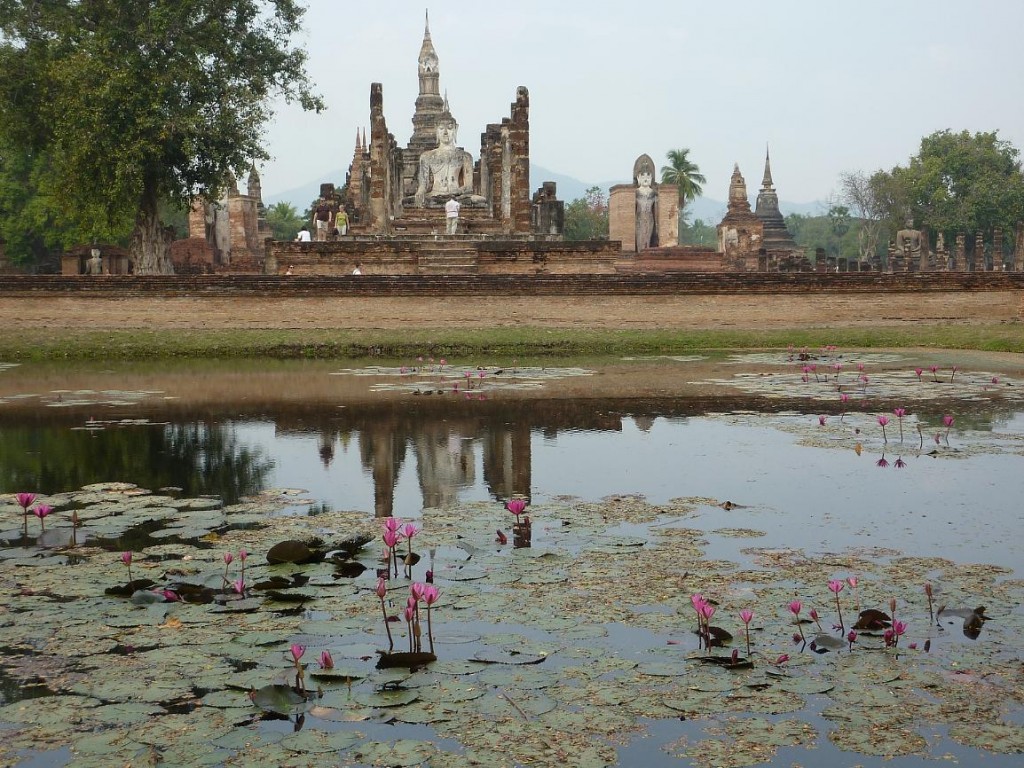 The ruins in Old City Sukhothai are really beautiful because of the extensive and well restored water features – moats and lakes. But the traces of the ancient civilization there seemed much less extensive than what I saw a year before in Ayuthaya.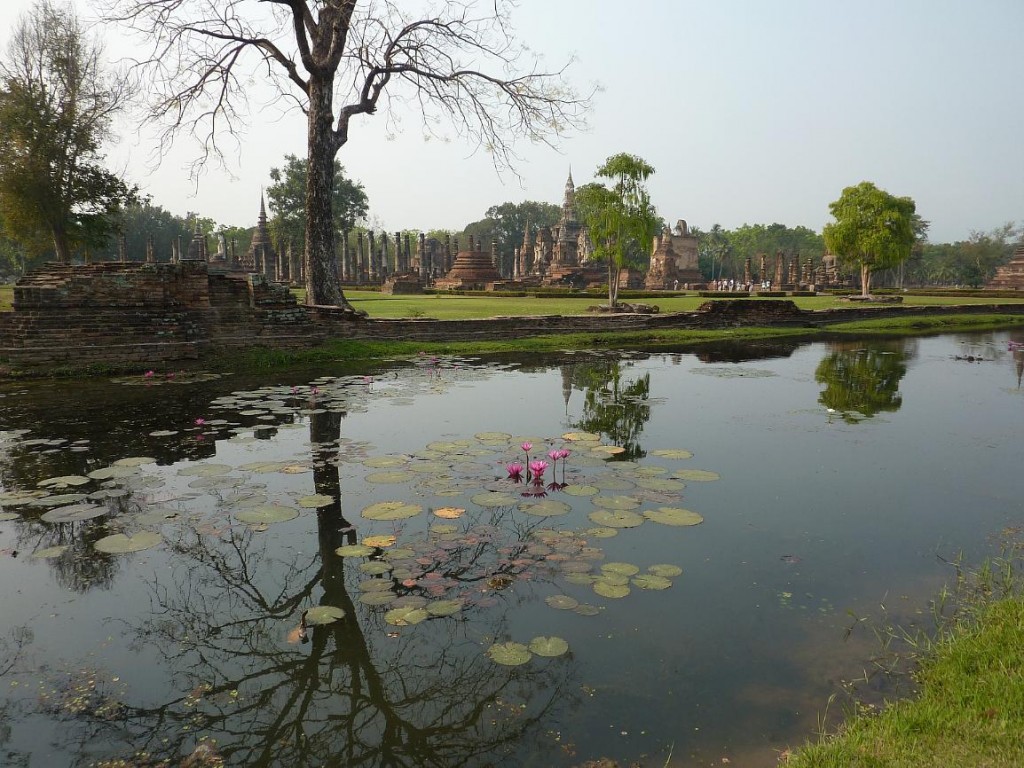 Sukhothai dates from 1238 and was built in area previously ruled by the Khymer.  Southeast Asia has undergone layers of change with dominant civilizations in continuous flux.  Sukhothai, and its dynasties, dominated Siam/Thailand through the late 1300s at which time power shifted south to Ayuthaya.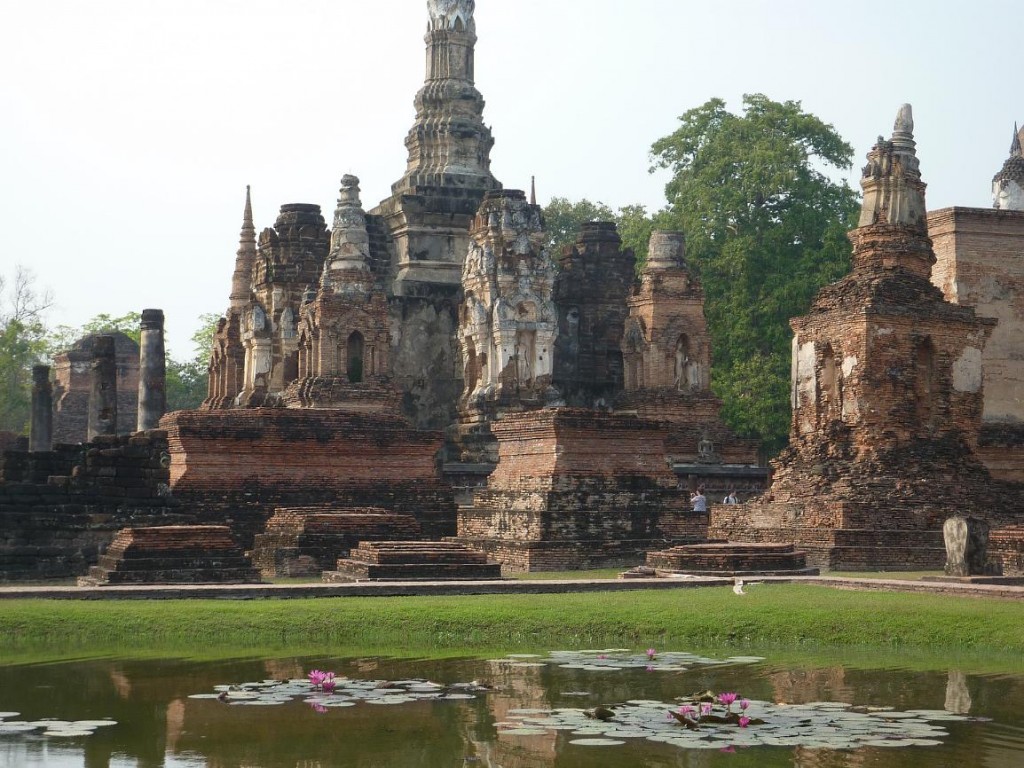 This is Wat Mahathat, the largest of the sites within the city walls. There are variety of other impressive sites in the surrounding area, but many are reduced to nothing more than brick platforms.
I was amused by this very large group – these are just a few off at the edge of the main pack. Their red hats were supposed to allow their guide to keep them together. But this one girl consistently held herself apart from the rest. Seeing her reminded me of why traveling independently is so nice.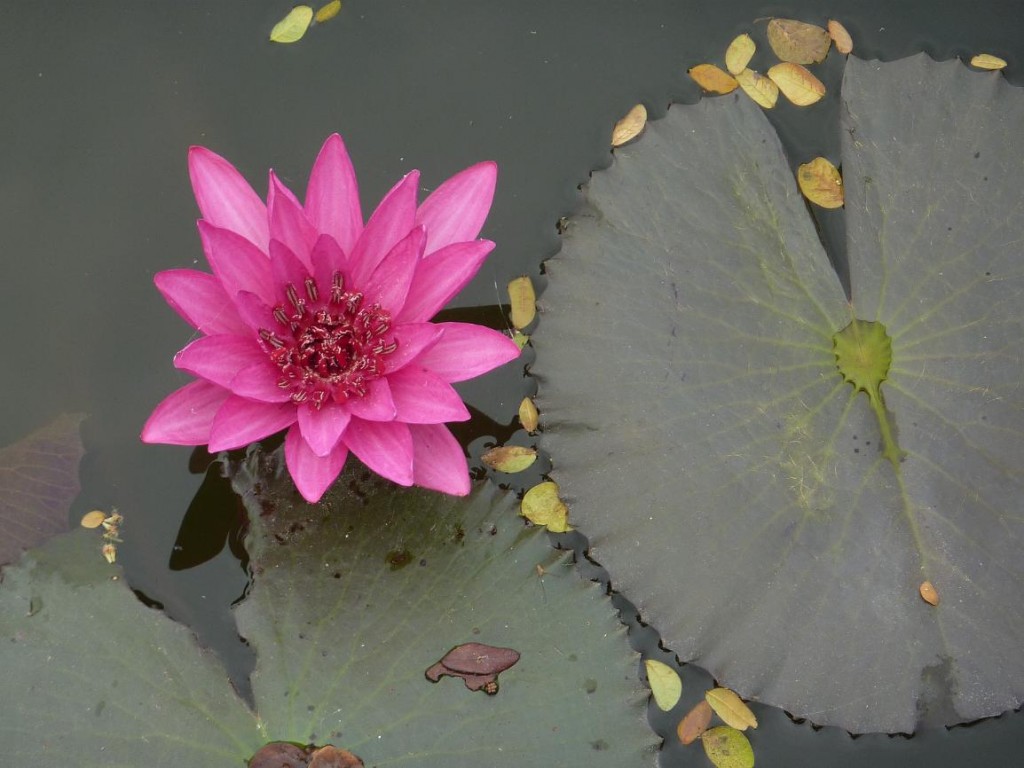 The water features at Sukhothai were so calming, especially with the central plains heat. Were it a bit cooler, one could spend a whole day just sitting by the moats and lakes reading and thinking.
There are also significant satellite sites – one about 50 kilometers north (Si Satchanalai and Chaliang) and another Kamphang Phet, an hour and a half by bus to the south. I'd intended to visit at least the Si Satchanalai-Chaliang Historical site, but because the weather in the central plains was by now so hot, I postponed these for another time.
So though I'd allowed a few days for the region, the temperatures sent me back to the bus station the next morning, heading onward to Chiang Mai.