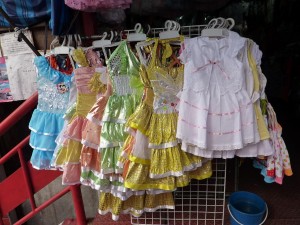 One of the features which makes Chiang Mai so interesting is its markets – from the tourist oriented Night Bazaar and the Saturday and Sunday Walking streets, to the Talat Warorot, the oldest market in the city.  Located along the river, this is where many locals shop for food and clothing.
Two multistory buildings connected by a skyway are full of shops.  The street below is lined with food vendors and with tables with a huge variety of items.  The umbrellas on the left side of the street shelter vendors and patrons from the morning sun.  Lined up along the far right side of the road, one can see the black roofs of the tuktuks, and queued in the middle are the red songthaews, all waiting to transport patrons home with their armloads of purchases.
The streets of Chiang Mai run red with these shiny new trucks, too many of them really, so that one wonders how the drivers are able to earn a proper living with so much competition.  If you glance at them as you are walking, they will pull over immediately to see if you are perhaps needing their services.  One quickly learns to ignore any curiosity about whether they are empty or occupied and keep eyes averted.
Next to Talat Wararot is the flower market.
On Saturday night a street south of the Old City is blocked to traffic, and filled with vendors.  This weekly event is called Saturday Walking Street.  An even larger Sunday Walking Street stretches from the Tha Phae Gate for blocks to the west, through the Old City.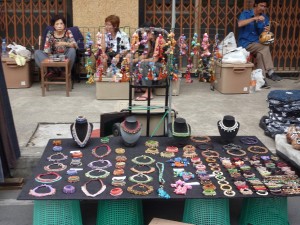 Chiang Mai's renowned Walking Street Markets have an all manner of local craft items – clothing, jewelry, and household.  Sampling the various food and drinks available fills the need long before the desires are satiated.  The center of the road has artists who create portraits with appreciative onlookers.  This area also provides a safe and probably profitable stage for disabled individuals who produce music, of varying quality, hoping for compassionate contributions.
The other renowned night market is the very tourist oriented Night Bazaar which operates seven nights per week. In a similar manner to the Walking Street markets, the road is lined with vendors, but behind the vendors are permanent shops as well.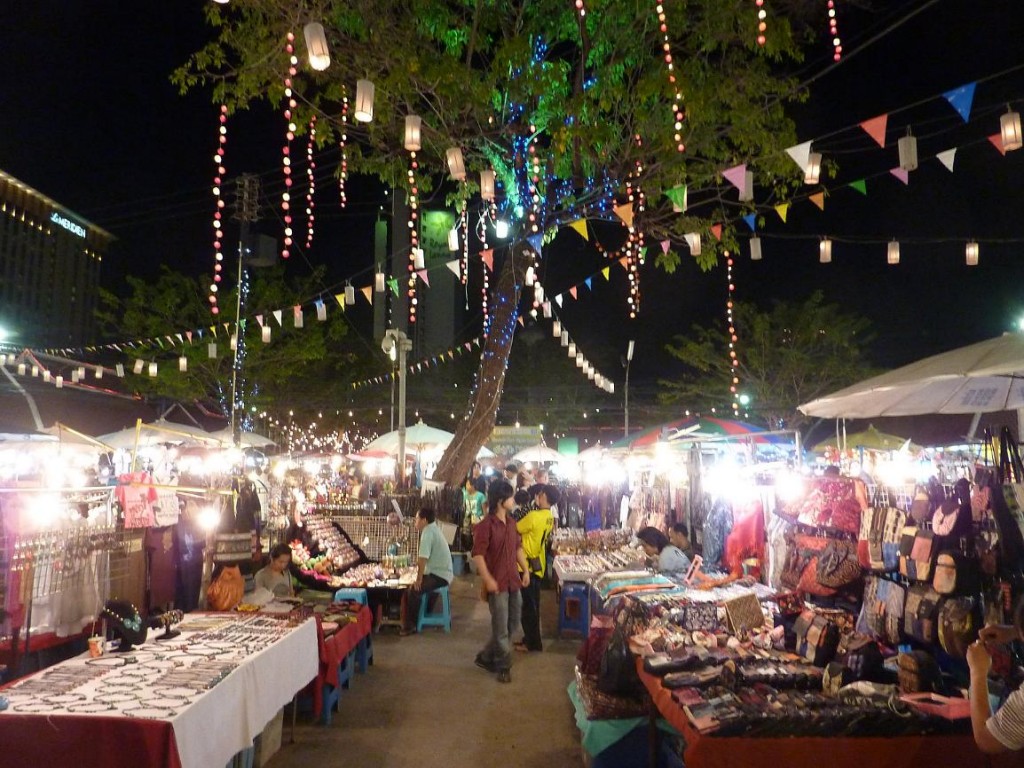 The nearby Anusan Night Market offers a wide variety of restaurants, many featuring seafood as well as local craft stalls.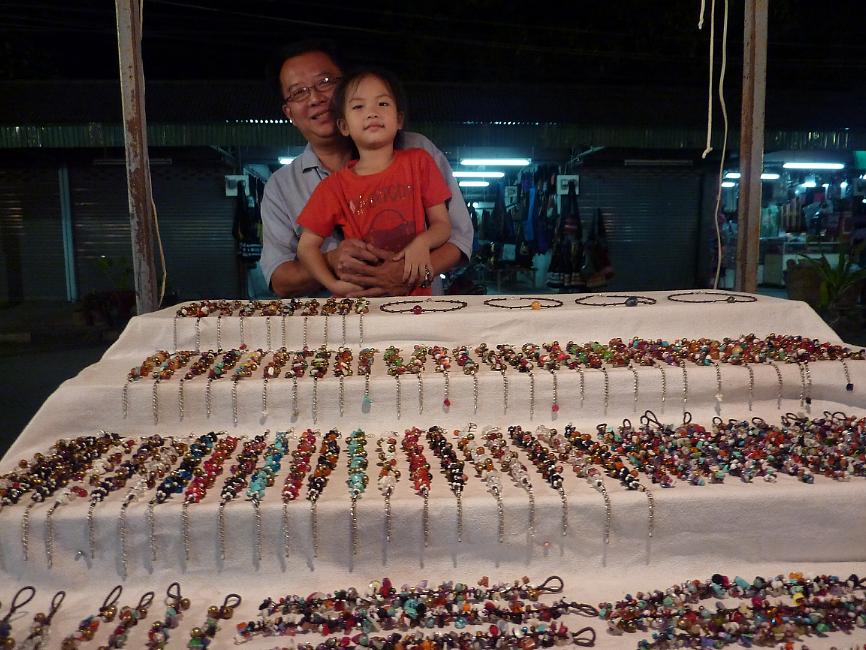 Mother is the crafts-person, father and daughter are the sellers. I bought from this nice man, not because I really wanted anything, but just because I liked him.
I have suggested that finding ones way home at night could be challenging.  On that first night my walk to the Night Bazaar and to Anusan took me through small, winding back ways which headed off in all directions.  Of course, one can always catch a taxi home if ultimately necessary.  As I walked through the dark sois, I turned often and memorized my way.  When I reached the main road, it still felt so entirely baffling, that I even backtracked a couple of blocks to a point where I felt fairly sure I could sort out the rest.  This preparation was well taken, and that night I did retrace my steps with no major problem.
It was several nights later that I found myself wandering back to my guesthouse, presumably now well grounded, but in fact quite lost.  I was coming back from Saturday Walking Street and tried a new route I thought would be easy enough.  The way the streets curve around, it is impossible to know what direction you are heading, and thus which way one should try to return to a known place.  As wandering like this is something I do often, I carry a secret weapon in my pocket.  Out came the compass.  As I was reasonably sure that I needed to be heading north, the choice I made with that help returned me in seconds to a very confusing four way intersection where all the roads curved as they passed through.  A minute more and I was home.  Funny to have felt so hopelessly lost, yet in fact to have been so very close.
And so ended my last night in Chiang Mai.  Over-confident, then lost, then found once again.