A forty five minute drive up a winding road southeast of Reno tops out at Virginia City. This atmospheric little town became the queen of Nevada in the 1860s after a major silver strike was made there in 1859. Of course I have been up there quite a few times, taking visitors for the pleasant drive and a view of old time Nevada.
Its population, from the 1880 census, was just under 11,000. In 2010, the number of residents was 855 which is a fairly large number in a state as thinly populated as this. Virginia City is a very vibrant and interesting place today, full of historic buildings, many crumbling, and many restored. The main street is amusingly, and perhaps embarrassingly, commercial, bearing a strong resemblance to Disneyland's Main Street. Tourists happily explore its museums, bars, and gift shops.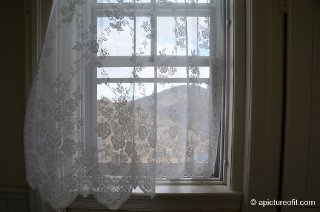 Until last week this tourist-centric side of Virginia City was pretty much my view of the place. I had walked many of the quieter side streets paralleling tourist central and wandered through the extensive old cemetery, but had barely ventured further. So when I accompanied a friend to see an art exhibit, I was quite unprepared for what I found.
As we drove into town, he turned east away from the colorful and busy main street. Camera in hand, I quickly grew doubtful about this unexpected direction. We pulled up at an old brick building at the east edge of town. The front area was barricaded off, the front porch crumbling, renovations evidently being considered but not really underway. A hand written sign directed us around to the side. I prepared myself to take a quick look, then walk up the hill to the main part of town where I could perhaps find some interesting photo possibilities.
And though I'd like to be able to bring you photos of the main part of Virginia City, in fact I cannot, for the qualities of this old building kept me rapt until daylight ran out.
This four story brick building first opened in 1876 as the Saint Mary Louise Hospital. It operated as such until 1942 when a fire in the top story closed it down. In 1964 the abandoned hospital found new life as Saint Mary's Art Center. For many years the center was essentially closed to the public, hosting private art retreats and classes. In the past few years, the uses have expanded significantly – the building now houses several floors of art exhibits. Historical tours of the site are available, and the building is available for rental for all kinds of classes and retreats.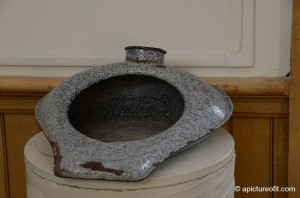 Well, all this is fine, and I was given this information as I entered at the side door. So off I went, to see the art I'd come to see, and to explore the old hospital. And this is why I spent all my daylight here: this structure simply exudes history. The careful restoration and modernization has left the sense of place intact. Many of what were once private rooms for patients now provide lodging for class and retreat participants, all furnished in a simple, comfortable and historically appropriate manner. The old wards are studios or areas for classes and gatherings. On every side of the building, windows look out to the desert scenery, to mountains and canyons, to old mine sites, to the historic Virginia City Cemetery. As one wanders through this old building, every corner feels full of the spirit of place.
This is an historic building sensitively and beautifully repurposed where one feels a vital presence of the many generations who lived, and died, in these halls. I hope you enjoy a glimpse into this corner of Virgina City, into this discovery that so surprised this jaded Nevadan.
Third floor art exhibit and reading nook overlooking the Virginia City Cemetery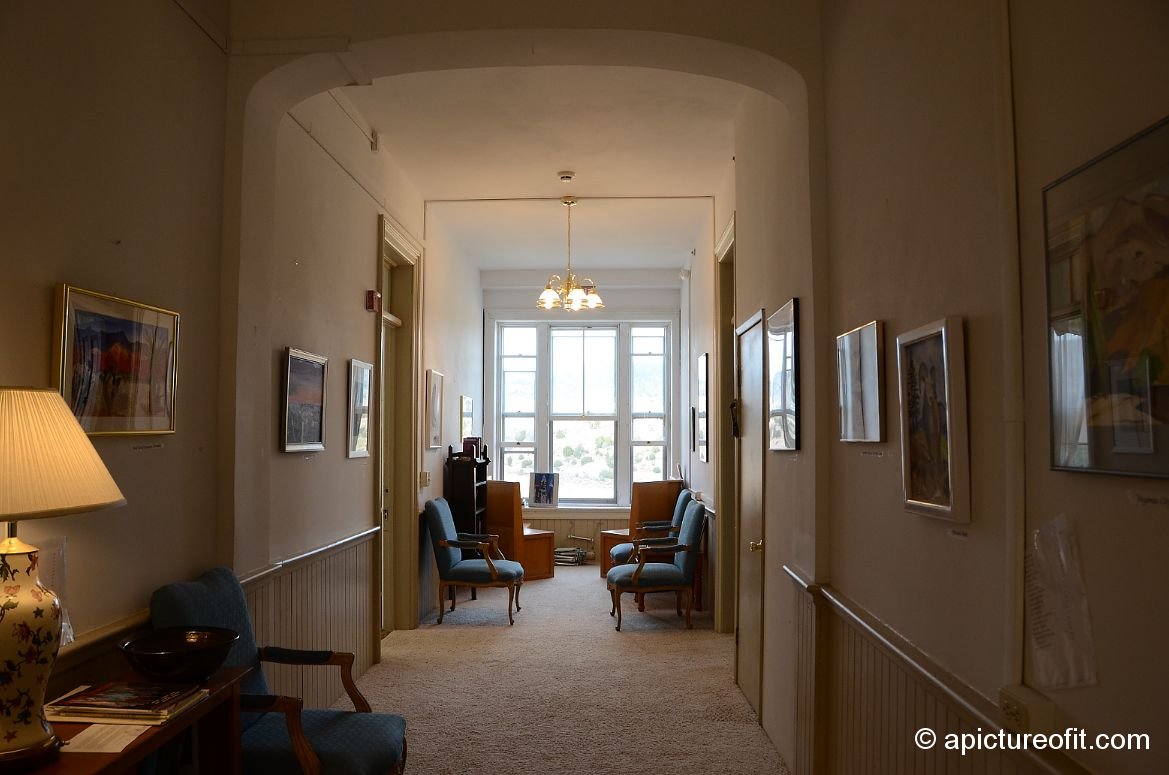 Cemetery view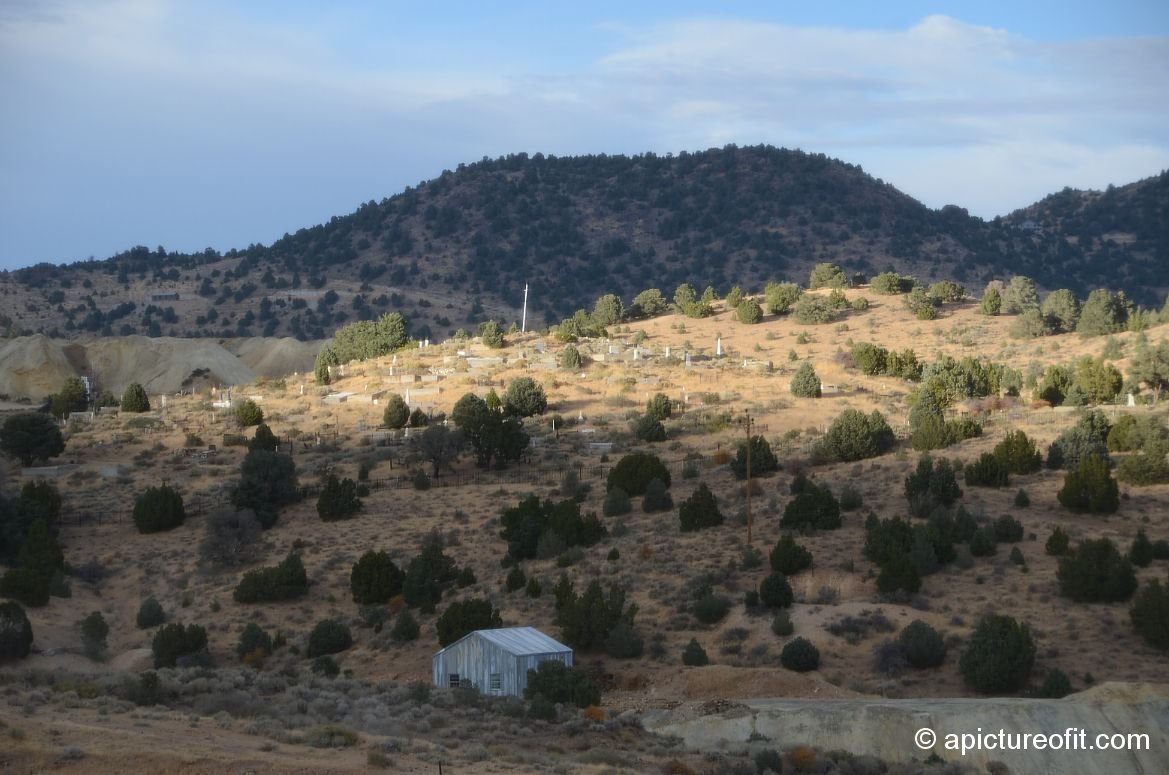 Once private hospital rooms, now lodging, for class participants, family gatherings, retreats.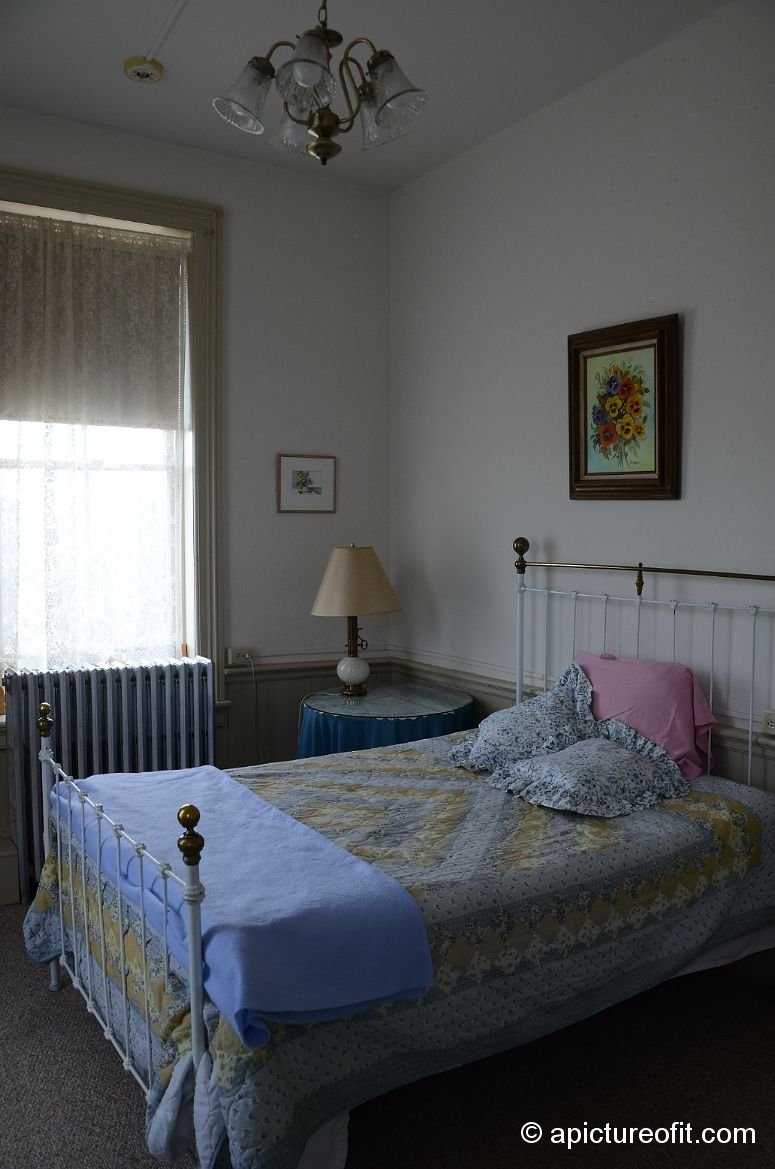 This room was especially large and well set up. The whole family would have been able to stay with the patient.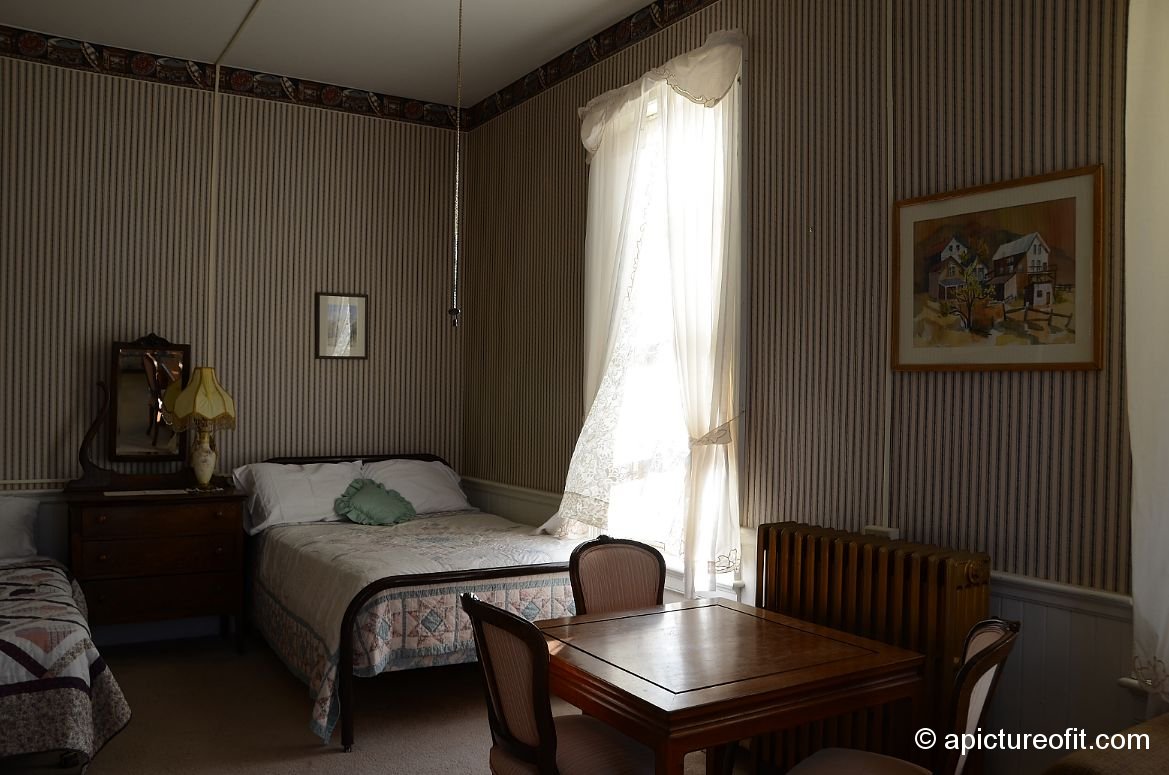 At the other end of the spectrum, an unrestored attic room that was more like a small cell. In here, one really felt the ghosts of 100 years past.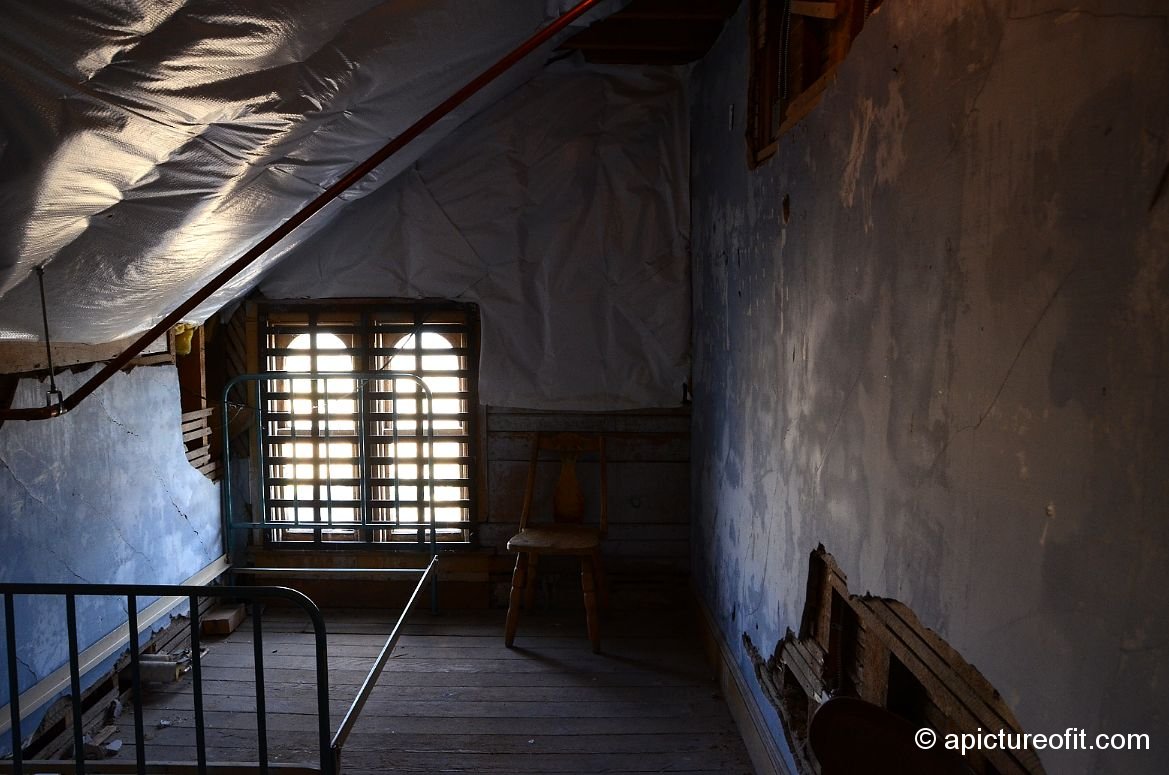 This ward on the uppermost floor is fitted with a phlanx of small cots. Like the unrestored room beside it, it brings one close to the ghosts of this building, and this town.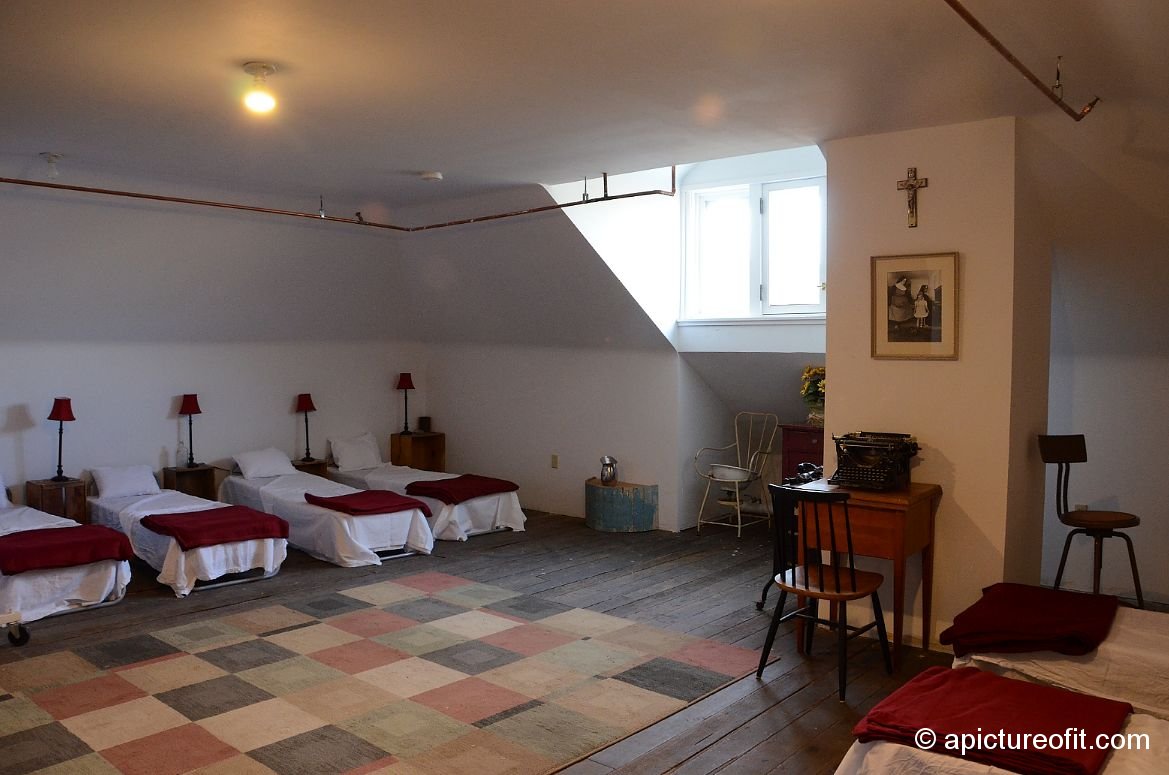 This room was once the chapel. To the left is a now boarded up window which once opened directly into the ward next door.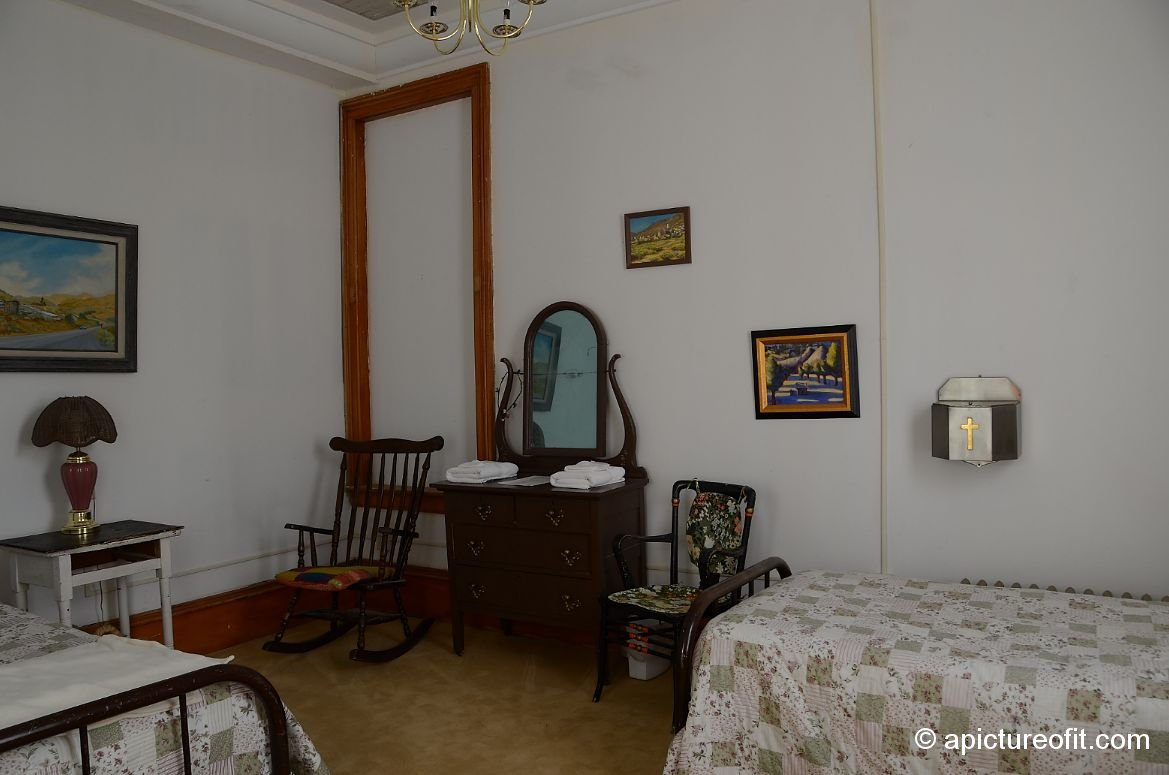 And above the front entry of the old hospital, a porch looks west to the main part of Virginia City, and the Comstock Lode silver mines.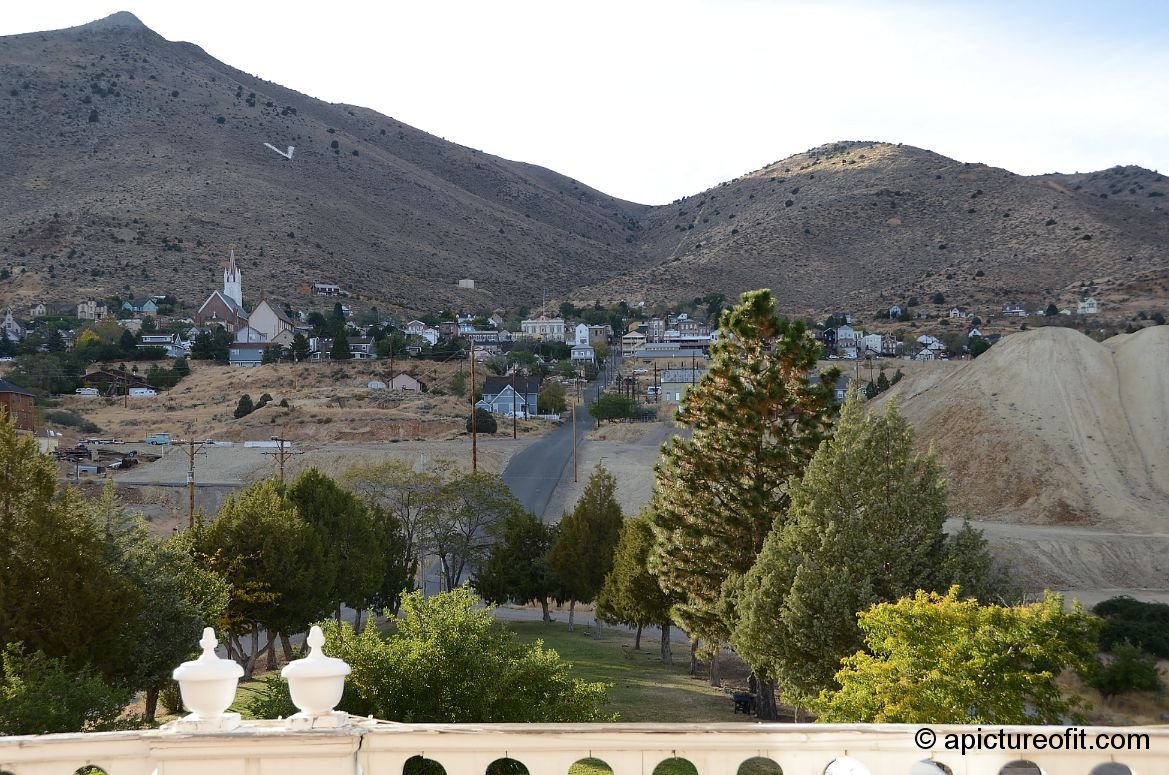 As dark approached, I did not want to leave. I wanted to unpack a bag, settle with a book and a mug of hot soup into a view-filled seat. I wanted to sleep surrounded by these ghosts, and awaken with them to the quiet of the hills, surrounded by the history, by the joys and sorrows of those who had once healed here, or died here.
The spirit of this immensely evocative place still walks in my heart.