Much of my garden is three weeks ahead of itself. And despite the nervous dread that a killing frost could still come along, it is a joy to have roses now starting their bloom.
'Sutter's Gold' is a classic old Hybrid Tea which always blooms early. The blooms usually blow quickly, but this year the cool weather has allowed them to last. Wonderful color, and fragrance!
'Altissimo' is supposed to be a climber, but in my climate it is a pillar rose reaching no more than six feet and growing in an upright form with stiff canes. The blooms are like little flames when backlit.
'Climbing Jackie' is a climbing miniature rose. This means not that the plant is small, but that the blooms are, having a diameter of about two inches. It forms a beautiful six foot tall and wide fountain of a plant in my zone 6 garden. In milder climates it climbs trees. I love these perfect little creamy-ivory-pale yellow blooms.
'Old Master' nestled among the needles of a 'Fat Albert' Colorado Blue Spruce. This is the only tree I have ever planted as the property came with plenty of trees, but no roses. The proportions have shifted significantly over the years.
Soon the entire bank of green in the foreground of the photo above will be in bloom.
'Othello' is a monster of a plant, frighteningly armed, with simply gorgeous blooms! The canes are stiff and strong with large, firmly attached thorns. Lest the rose purists object, roses actually have 'prickles' not 'thorns', the difference being that thorns are a modification of the stem tissue while prickles are a separate structure. However calling the armor of 'Othello' a prickle just feels wrong.
'What a Peach' is another early bloomer. This is a miniature shrub rose. The blooms are about an inch a half across on a five foot tall plant.
Though it sometimes seems that way, not everything is roses.
Irises bring different forms, textures and colors to the garden.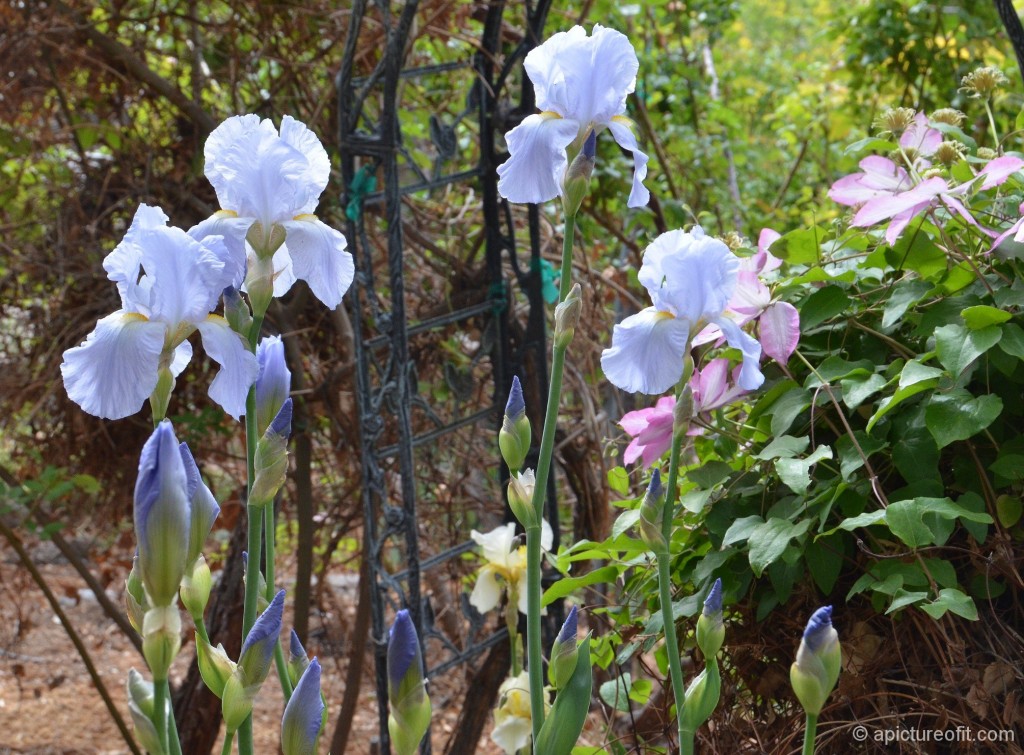 I have no idea if this Iris has a real name, but to me it is 'Wine and Roses'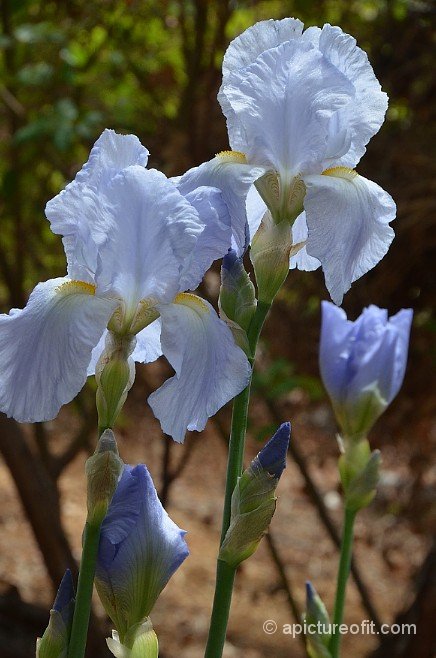 Of all my irises, this is the one which I most love seeing next to the roses. I cannot think of a single rose which is not made more beautiful when next to this floaty pale blue.
Blooming shrubs and trees add height and texture.
Viburnum opulus is commonly known as Snowball Bush, but it has the form and size of a small tree.
These are some of the highlights of this first week of bloom in the garden this year. Things are changing very fast – each day brings something new.
It is such a fine time of year!