The buses which leave the Chiapas town of Palenque, heading east, are each and every one scheduled to run overnight. This meant that I had one extra day to fill before my 10 pm departure for Tulum and the Riviera Maya.
Though this was not my first choice of destination, the idea of landing where I really wanted to be (Xpujil) at 3 am held no appeal at all. And time was running short before I would need to head for Cancun and my flight home. Xpujil, Zoh Laguna and Calakmul would have to wait for another time.
And though the ruins of the magnificent Mayan city of Palenque were worth every hour one could afford them, the pueblo of Palenque – not so much. I had spent my nights in the jungle retreat of El Panchan, but had been to the town a couple of times - to buy food, to check the bus schedules, and to do a little exploration of the pueblo. This last morning I had hoped to find more interest and depth to the pueblo. As was the experience of other travelers I spoke with, there was scarce little to see here.
But sometimes circumstances bring unexpected fortune. So it was on this Sunday morning. After buying my onward bus ticket, I was following the main street into the town when I noticed in the roadway the slow and somber progress of a funeral procession.
Aha! Where there is an open hearse followed by a stream of walkers, there must be a nearby cemetery!
In fact the walled off and unmarked cemetery was directly across the street, utterly indistinguishable from outside those walls. No sign hung over the gate which was discretely tucked into a barely visible corner. I had passed by it several times before and had never noticed it.
I tucked into the cemetery, avoiding the route taken by the mourners so as not to intrude. I quickly found that the way was nearly impassible.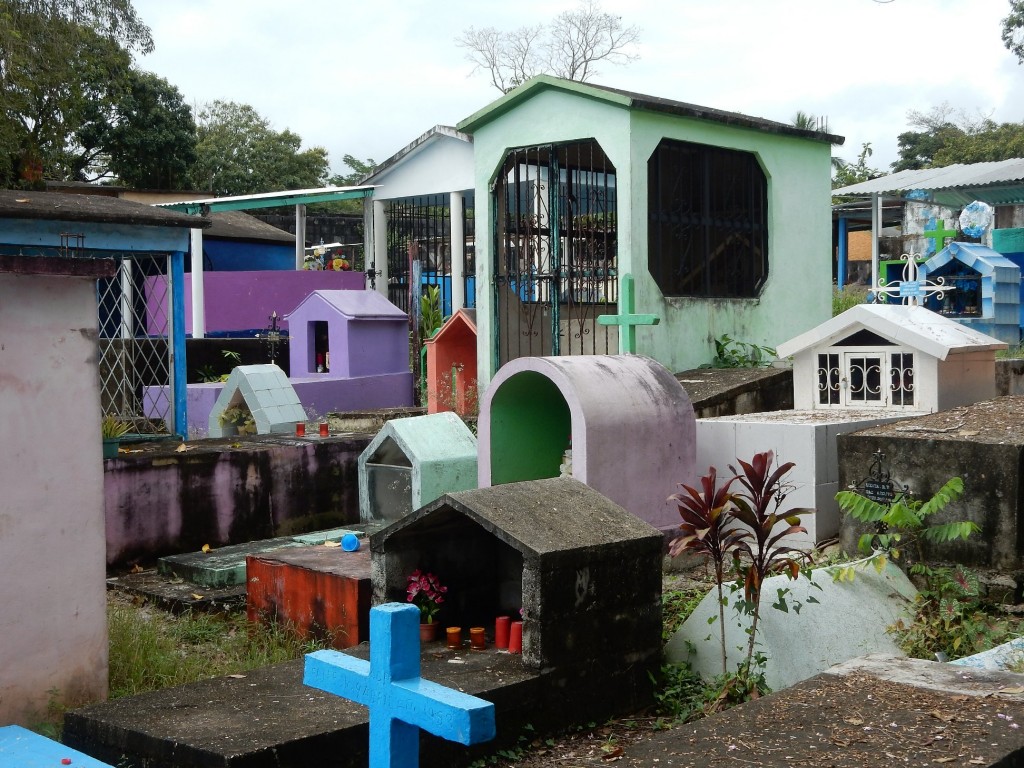 The tombs and graves were so close together that it was, at times, barely possible to squeeze between them and at other times not possible at all. There was no route at all to reach the tiers upon tiers of graves in the far corners of the cemetery apart from stepping up onto the old cement grave markers.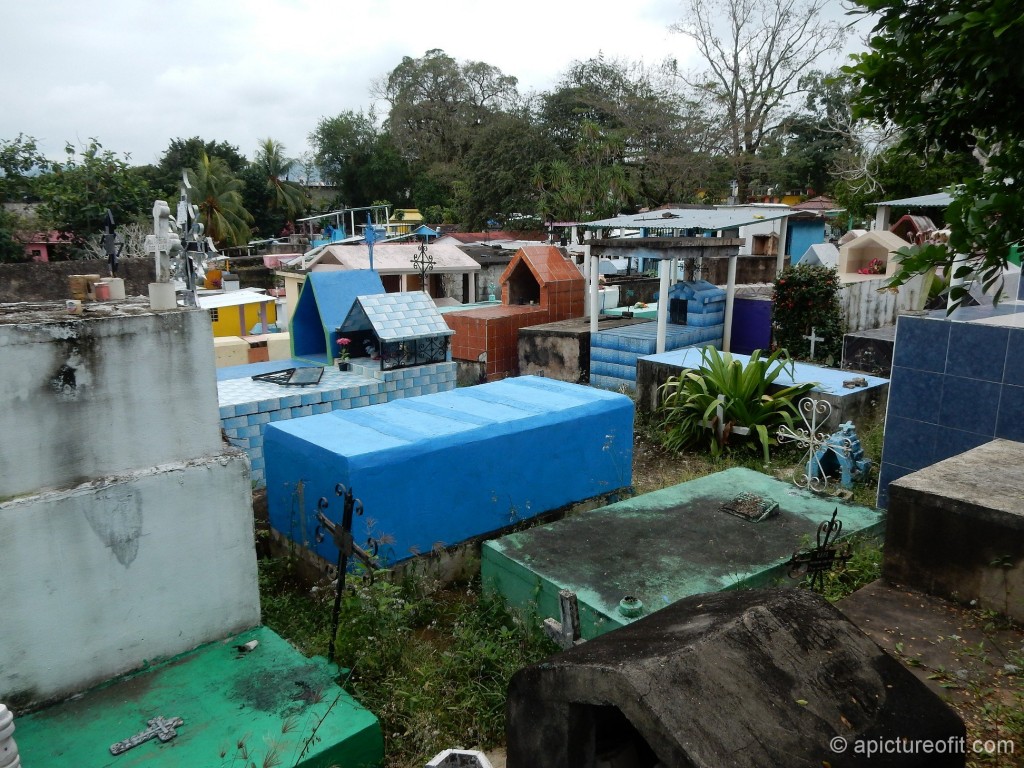 I soon had fearsome collections of weed seeds attached to my shoes and pant legs. Such a strange place, with so little evidence of visitors to these old tombs. And yet I saw many dates of death that were well within the past few years.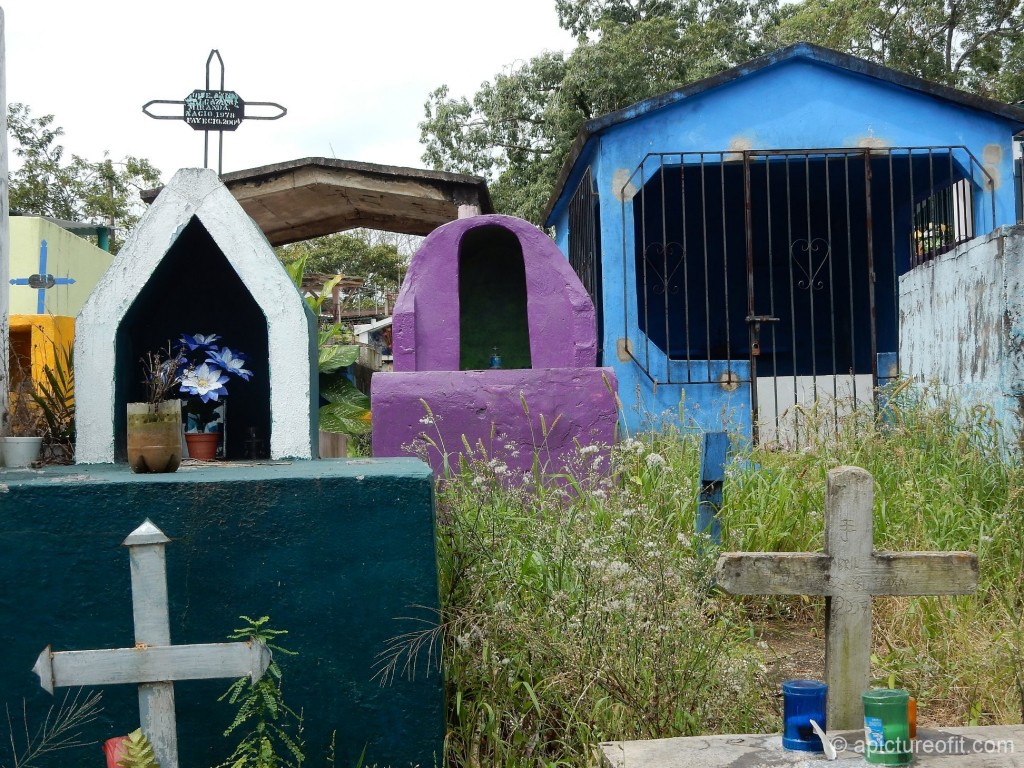 After the morning's mourners had departed I shifted over to the area that promised easier access, after all this group had seemed to enter without problems. Indeed I did find some open accessways, but they were few and very limited.
What struck me, especially after the very orderly, nearly regimented, cemeteries of Cuba, was the relative chaos of this very crowded site. There was little indication of attention paid here by loved ones, and clearly no room at this inn without displacing earlier tenants.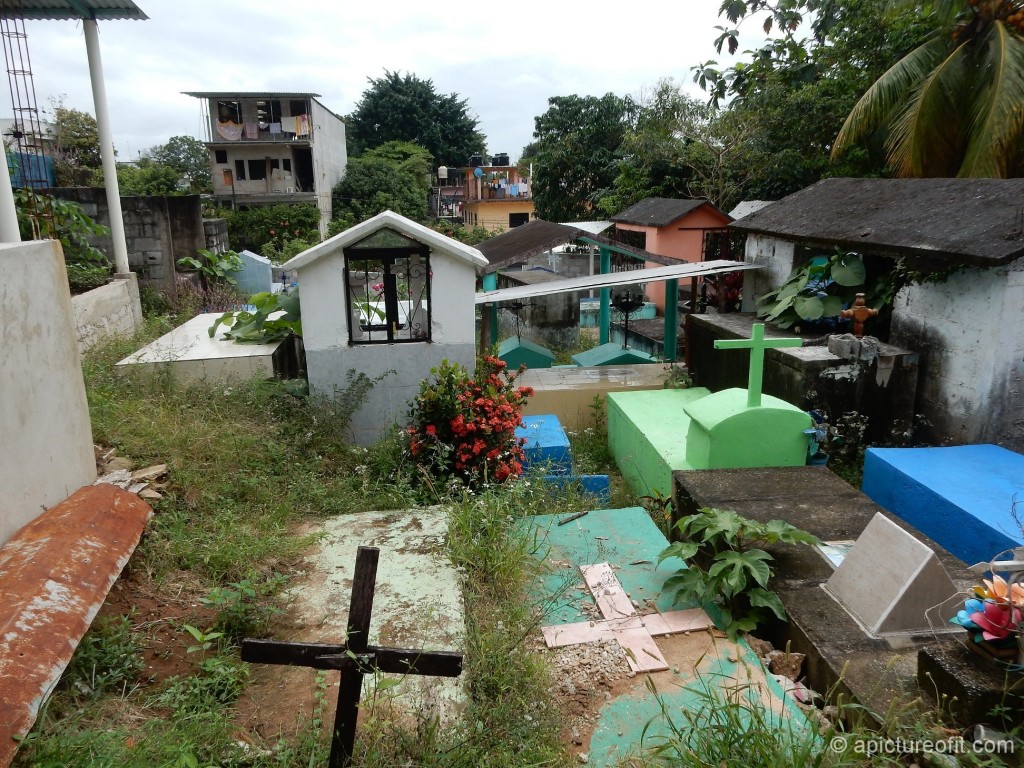 Was this typical? Hard to say – for this area of Mexico, perhaps. The cemetery I had visited in Campeche had been somewhat similar – very crowded, only accessible in a very few places, the older sections of the cemetery all but unreachable. Yet the weediness there had been minor. That difference could come down to a simple matter of rainfall; Palenque is on the edge of the extremely wet Lacandón Jungle.
When I had tired of picking weed seeds out of my socks, shoe laces and pant-legs, I headed into town to the main square where the simple, unassuming church was open for morning services.
After an excellent, ample and inexpensive lunch of pechuga a la plancha (sauteed chicken breast with all the usual rice/beans/salad accompaniments), I colectivo'ed back to El Panchan, my welcoming jungle hide-away.