Feb 24 2010, Hanoi
I have emerged, now, from the mountains, and from the backwaters and forests of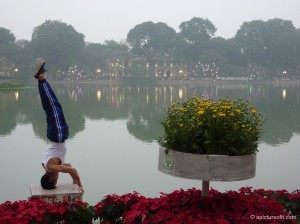 northern Vietnam, to the lowland of the Red River and thence to the South China Sea.  This stage of the journey starts in Hanoi and progresses down the coast to Saigon.  From Saigon, at last, I will be able to return to the Mekong to explore its delta, having followed the Mekong north from mid-Cambodia onward, from where I first reached it in Kampong Cham.
I had heard much about Vietnam before finally arriving at this pivotal place.  There is, of course, the history – the tragic way in which my generation was both involved in and affected by this place.  And there were the words from other travelers, telling me how different the people here are from those I had met in other parts of Southeast Asia.  I had heard they were cold, hard. But that has not been at all what I have been finding.
Yes Hanoi is loaded with touts and scams, but the people I have met, one on one, have been warm and absolutely wonderful.
My journey to Hanoi was by overnight train from the northern mountains – from Sapa to Lao Cai by minivan, and then through the night on a comfortably rocking bed, with the rhythmic clicking of the rails as a lullaby.  The rail cabins contain four berths each, so my cabin mates were to be my first unknown for this night.  As I waited for my train, I witnessed a horrible man smacking his eight year old son on the head, then the mother pushing this boy around.  The boy's behavior was pretty awful as well, and with such 'nurturing' one might expect nothing less.  Not a good introduction to what Hanoi would be like.
There were three in this group; might I be doomed to share their cabin?  With huge relief, I saw them head in another direction when the train at last began boarding.  The reality turned out to be entirely delightful.  The fellow in the bunk above mine was with a larger group and came to the cabin only to leave his bag and to sleep.  The other two berths belonged to a young couple, newly married, three weeks.  Tung was 27, and Huong 26.  They had been in Lao Cai visiting her parents, and giving them the exciting news of her pregnancy.  In the course of our conversation she mentioned being worried about how she would be as a mother.  There was not the least doubt in my mind that this lovely gentle girl, and her kind, attentive husband, would be wonderful parents.  They were the perfect contrast to the awful people I had seen in the waiting area.
Tung and Huong were enormously helpful in giving me some guidance for hotels in the Old Quarter of Hanoi.  Lovely, warm people.  This was not what I'd been told I would find in the cities of Vietnam.  Their example has been the norm here – almost everyone I have met here has been just as welcoming, and very nice, including the staff in my hotel, and in the nearby one which allowed me access to their wireless during the three days mine was being repaired. Everyone.
I find myself feeling very emotional about being in Vietnam, and have a couple of times been asked why I chose to visit here which has opened those floodgates.  Both of the people who I shared these feelings with were too young to have personally experienced the Vietnam War (or The American War as it is called here) and the role of the white devils.  Both were almost puzzled by my emotions but very caring and giving.
Part of my need to come here is the history, my personal history, as a child of the 60′s in the US.  My generation lost its innocence here, lost its sons.  Many died, and just as many or more were forever scarred.  It was not a war we understood, one we felt we belonged in.  And it was fought in a jungle by men who knew the ways of the forests and mountains and rivers.  My US brothers were sent here by a country that had largely  stopped believing in their mission.  They were sacrificed to political pressures and expediency, to a war which we had committed to and then found impossible to leave.  I need to understand this all better, and I need to let these scars and memories go.
It is interesting to see how things are here now.  In the north, where the battle was won, there seems to be a great deal of stability and satisfaction.  I will learn as I move south how the feelings are now in the rest of Vietnam.
Hanoi is fascinating.  I had heard it was charming, but at first it was difficult to imagine how that could be.  And yet, it is.  Its crazy traffic creates a pace that is both noisy with horns, and comfortable at the same time.  Vehicles move rather slowly, disregarding all lanes, and most traffic 'rules'.  The only traffic rule which is mostly obeyed is that those going in the main travel direction will stop for red lights.  Mostly.  I have seen motorcycles force their way right through an intersection against a light.  Baffling.  Crazy.  Yet fun.
The infamous scams which one experiences in Hanoi and in Saigon began immediately upon my arrival.  I arrived at the train station in the dark, 5:30 am. I had been warned to use only one certain brand of taxi, especially when carrying my backpack, and obviously in need of a hotel.  Others will take you where ever they wish, and even if you are already booked, to a copy cat named hotel, not the real one you were seeking or had booked at.  You'll be told the hotel has moved, and silly you will believe them.
So I sought out the Mai Linh taxi as I'd been warned that others might cheat you blind.  Several men herded me to the one they wanted me to take, and were showing me a 100,000 dong note, telling me this would be the price.  I said "meter."  They ignored me.  Repeated that, ignored.  Wanted the money now.  Of course, I refused.  At that point, I grabbed my bag and removed myself.  Immediately snagged myself a different Mai Linh taxi. As soon as we'd turned around and started, on came the meter.  The fare ended up being 1/3 of what the con men were trying to extort.  Who knows where I'd have ended up and whether I'd have still had my bag.  Obviously someone who had borrowed (or stolen)  a legit taxi from a sleeping friend or relative.  Nothing protects you other than to have your wits about you, irrespective of the time and your state of sleepiness.
Then immediately on came scam number two.  I got myself to a main area where I would find a selection of hotels in various price ranges and spent a half hour or so over breakfast (pho – noodle soup) while the sky lightened and the hotel barricades were opened.  Here at night every hotel sign goes out and every door is barricaded with metal.  Then I began my search.
After being led to a place or two I did not want to check out further, I got myself to a Lonely Planet highly recommended budget place.  I knew this place had two locations, and made the mistake of inquiring not at the real Especen, but instead at the copy cat named place around the corner.  Having checked into the room, I was berating Lonely Planet for their poor judgment.
I knew this place would not do for more than one night, so after catching up email on wireless, I went looking for something more suitable, found a very nice place around the corner and booked it for the next several nights.  I figured I'd stay the one night as I was already situated.  Then I found another couple who it turned out I was inadvertently following. 
They had stayed one night at the fake Especen in the exact same room I was in, moved to the same room I had now booked at the Little Hanoi 3, and were moving to the real Especen which had a perfect room for when their daughter arrived to join them the following day.  He told me that the bed in my room was so bad his back had hurt for two days after.  And he was right as I determined when I returned to the room and had a lie down. I upped my booking at the Little Hanoi 3 and moved immediately.
As I left, the shyster tried to grab me and keep me from going. Several times he latched onto me or my bag and tried to restrain me.  Well I know how to make a fuss and fight back.  I was out.  bastards.  There have been some minor things since, but it is when you are hotel seeking that you are most vulnerable.  And keep your bags close, as in Hanoi "the bags have legs."
So Hanoi is fascinating, charming, crazy, wonderful.  Off now for breakfast, and to further explore the wonderful Old Quarter.
—————————————
coming soon: