Yet another small change of plan, I will spend two nights here after all, instead of none, or one.  My journey flows as the river, responding to land and time and whim.
I am in Nong Khiaw, Laos (pronounced key yo), north of Luang Prabang.  I had intended to go onward another hour by boat, but instead find myself wanting to just stay in this lovely spot. Laos has been open to tourism for only a relatively short time and the changes wrought by the presence of falangs are dramatically less up here. 
Yesterday I traveled 3 1/2 hours upriver  by minibus from Luang Prabang.  A boat ride was possible, but twice as long and rather cold.  The songtheaw (covered pickup truck) was cheaper but people were heaped on each other and the top loaded another four feet deep with bags, boxes and probably roosters too.  With the morning chill, the relative comfort of the minivan seemed the best option.  The other advantage was that we arrived an hour earlier and so had a better choice of accommodations.
The scenery in Nong Khiaw compares favorably with Vang Vieng south of Luang Prabang.  Over the past five years, Vang Vieng has transformed from Eden to Coney Island Hell.  The young backpacker crowd has taken the place over, spending their days tubing on the river from bar to bar, each of which now plays high decibel music.  Every sort of drug is easily available. Not my sort of place.  I enjoyed the views as we passed through on the bus from Vientiane to Luang Prabang.  I would have liked to have seen more.  But even though I did not know then that there was something nearly as nice awaiting me upriver, I simply couldn't be bothered.
An hour upriver of here is Muong Ngoi, a newly developing tourist destination, still unreachable by road and nearly pristine.  There is power only from 6pm til 10 pm. The guide books are out of date – there is little written on this area – and until better information is available we must rely on word of mouth to guide us there.  These regions of northern Laos will be changing quickly with the arrival of infrastructure – roads and power.  I am privileged to be here now, when the river and only the river determines where and how people live – the means of travel, the source of food.
The morning here started at 5 am, with the slow awakening of the roosters and the forest creatures, and with distant chanting.  The air was very chill, explaining the two heavy quilts on my riverside bungalow bed.  The river was enshrouded in morning mist which an hour and a half later is slowly lightening in the daylight.  I await the arrival of the sun, and warmth.
After weeks of the sweaty heat of the lowland Mekong, the cool is a startling change.  It is still quite hot mid-afternoon, hot in the sun, but as one follows the rivers north, the elevation surely has to rise though it is barely detectable when traveling.  This was clear from the cold of the Luang Prabang mornings.  It is more clear here on the Nam Ou where the mornings are so misty.
This little crossroads village with its broad bridge across the river in a wonderfully scenic karst cliff setting has a hospital and school and some tiny mercantiles.  The transport to other larger places in the north pass through here at intervals, so one can travel by locals bus to such larger places as Oudomxai to the west, and on to Luang Nam Tha, further north, or one can follow the local roads east.
Nong Khiaw also has a collection of fairly basic guesthouses for the falang and decent food.  I have left the glorious street food of Luang Prabang behind now, and wish for one more fresh barbecued Mekong fish.  But it is a satisfying and interesting transition.
My accommodation is a small wooden bungalow, facing directly out onto the river, on stilts with woven panels lining the rough plank walls and woven mats on the floor.  The window is an open square which shuts with a wooden panel, and beside it a wooden door which opens onto a private balcony.  There are cracks between the slats of the wall and in the floor.  If there were mosquitoes, which there are not right now, I would lower the mosquito net which hangs above my bed for sleeping.  Otherwise, I would be completely open to them with the open window and door, and about a million other ways they could fly in freely.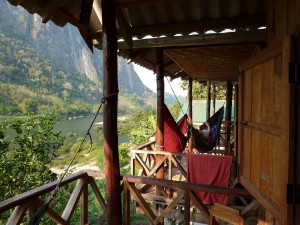 Because I chose the top level of accommodation at this guest house, I have an ensuite – a private bathroom – now fully in the Asian style.  This means that the toilet is one where you place a foot on either side and squat.  To flush, you pour water from a dipper into the basin.  If you want to use toilet paper, you bring your own, and throw it in the rubbish after.
All bathrooms in this part of the world are what are called wet bathrooms – there is one small room containing toilet facilities, sometimes a sink sometimes not, and the shower.  If the room is really small, there is often no dry spot anywhere in the room except perhaps a nook high on a nail for your towel.  Cleanliness varies wildly though spending more than I tend to probably improves the chances.  I do look at the room first, but so far have been largely happy enough with what I find.  It is not typically  quite up to western standards, but good enough.  And if it looks truly awful, I quickly move on to something more appealing.
This little bungalow has a nice shaded deck overlooking the river with two little chairs and a small table, and a hammock.  This is a step up, as it is the first time I have had a chair anywhere I have stayed til now.  One sorts through ones luggage on the floor, or perhaps on the other side of the bed if it is larger than what one needs as it is here.
Altogether a most appealing little room.  Hence the decision to stay one more night and walk or bike to some of the neighboring villages before moving upriver to the more remote location.  And I am gathering that Muong Ngoi has been seeing a huge increase in tourist traffic, well relative to none anyway which was the state of things such a short time ago.  I am experiencing Laos in its process of change – from river village to hub village. Because the bridge is located here, Nong Khaiw is the local hub for transport and infrastructure.
Here there is exactly one possibility for internet, the last for awhile.  And I hope to be able to find some AAA batteries.  One balks at carrying spares of everything that might be needed along the way.  Medications I might need are too important to take chances with. The pens I prefer and highlighters would be impossible outside of Bangkok.  But such simple staples as batteries might be available here.  If not, I juggle between head torch and computer mouse and the light has to come first.
[note  - yes, I did, easily, though not cheaply.  I took a dead battery with me to show what I wanted, as asking in English would have been futile]
Onward, into the day, and to discover what new adventure awaits.