I had thought that these initial few days in Bangkok would be a wasted down-time, but it is quickly taking on another form entirely.  It is different if you are traveling for just a few weeks with a frenetic schedule already laid out for you, as many people so sensibly, and of necessity, do.  It is also different if your plan is to head for some gorgeous beach areas where you will mix up r&r with relaxed explorations of your new surrounds.
Independent travel which is partially planned and partially evolutionary is quite different. There are planning and organizing requirements, and while attending to those, the free time is readily filled in a place as full of life and variety and interest as Bangkok.
I arrived in Bangkok at dawn instead of at midnight.   There is something fitting, on a trip so unstructured, about missing your second flight of three and being rerouted the wrong way around the globe.  What better way to drop all expectations?
After some thirty hours traveling and getting my guesthouse room all sorted, I would have been quite happy to finally get some proper sleep, but really, what would be the point of that?  Sleeping from noon til whenever would have left me up all night, finally ready to rock and roll and nowhere to go.  Well, not so if I was one for the wild nighttime Khao San Road scene, or something of that sort, but of course I am not.
So despite feeling quite low on energy with barely three hours of sleep in two days, I wander out, moving a bit more slowly than I usually do.  I am already familiar with my neighborhood.  This makes it easy – instead of heading for the bustling main street a minute's walk left, I cut right, then left and in a half block I am entering the Thewet market from the side.  It is 1 pm and though a few sellers remain, the morning meat sellers have packed up and hosed down their sites, and gone.  The main entrance will have fresh vegetables all day, but much of the inner portion is either a morning market or has largely shut down for a midday break.
Passing through to a small bridge over the khlong (canal), I turn right, to the west, again til I reach the river. Here there is a dock for the ferry, tuk tuks and motos waiting for offloading passengers who might want transport from here, food stalls and restaurants, and vendors selling big bags of stale bread.  Of all the dock sites I have experienced in Bangkok, this one is unique – the river here is seething with fat two foot long catfish.  At a small dock just upriver, a man is dumping bread into the water, and the silver of their thrashing bodies is topped by spray and mist.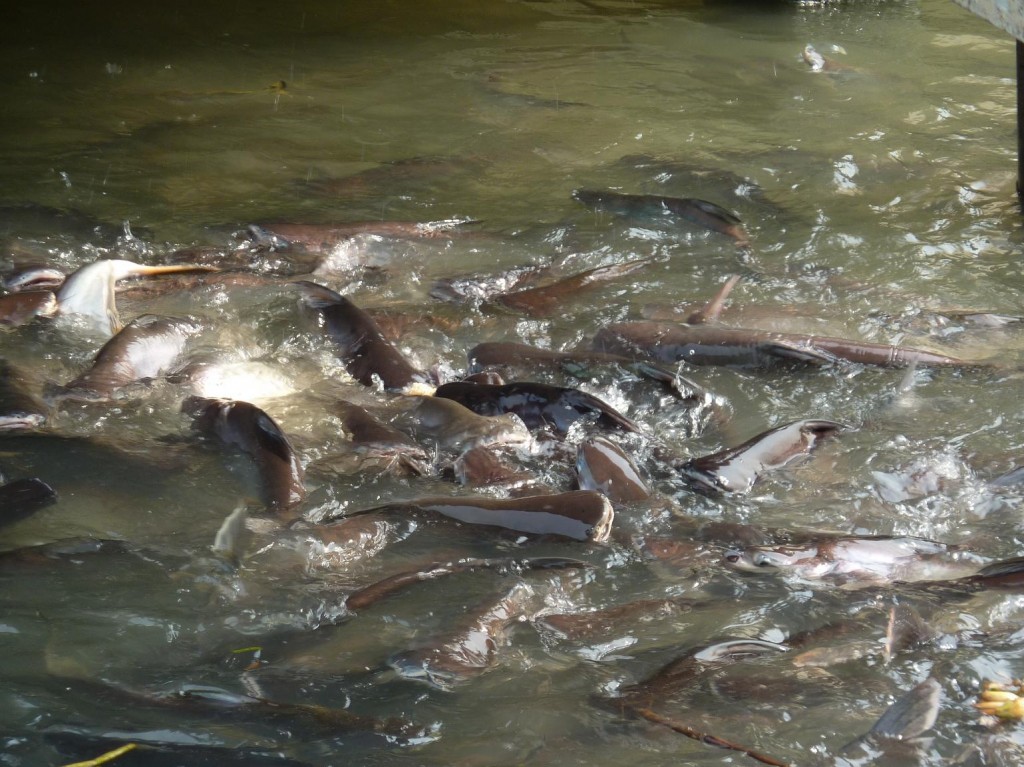 South from the Thewet pier, which is the direction I will travel, the river is solid with structures, so after my reconnaissance with the river, I must finally head east to pick up the busy main road.  I am renewing my acquaintance with Bangkok – with its heady energy, with the rhythms of its busy streets.  At first the dash and clash and aggression of the traffic makes me cautious, but quickly I slot back into how to anticipate, dodge, slip between and it all feels familiar and comfortable once again.
I wander along the main street which changes names periodically.  When I reach the next khlong after Thewet I turn and move toward the river again.  Once over a small bridge a little way further, I have left Dusit and entered Banglamphu.  I have reached the edge of the frenetic backpacker's area – Khao San Road, Rambuttri village.  The next area south from here, and further than I will go this day, is Rattanakosin, an artificial island that is the main tourist destination in the city with the Grand Palace and Wat Pho.
I continue west again reaching the river at Fort Phra Sumen.  This whitewashed cement fort was one of 14 (and one of two remaining) built in 1783 to protect the new capital at nascent Bangkok from attack by river, to spare it the fate which befell Ayutthaya, the previous capital further north, invaded and destroyed by the Burmese.
The riverside park which surrounds the fort is a good place to kick back awhile, and restore some energy.  Eventually I continue south along the river until the riverside walk ends.  Now I am heading east into the heart of the backpacker's area, walking by guesthouses and restaurants and shops, ready now for a light meal of chicken fried rice.  Options abound, each with a different energy.  I eventually choose one that suits me, a semi-permanent place with little tables and plastic chairs along the lane.  It is smaller and more unassuming than to call it an actual restaurant.  Tables are shared – one sits in any open spot.  One catches the attention of a server and orders, and a short time later the meal arrives.  Quick, simple, inexpensive.
It is here that my first day in Bangkok enters its last phase.  At a table nearby a slender gray haired woman is talking with a young girl who happened to be sitting near her.  I  can overhear the conversation and can see that this woman has been in Thailand for awhile now; the information she is passing on is interesting and good.  Eventually I cannot resist and ask if I may join them.  Of course, this is welcomed.  That is how it is among travelers.
Though Americans are relatively rare, both of them are – Ciela from San Diego and heading next to India, and Laura from the DC area arrived yesterday.  This lovely young girl has bought herself a one-way ticket and is beginning the kind of open-ended travel that makes the independent traveler's heart sing.
Soon two nearby seats are taken by two famished young men – Rohan from Sydney Australia and David from Scotland.  They had arrived in Bangkok this morning on an overnight bus from Vientiane Laos.  Both are at the end of their stays in SEA.  Laura and I are on our first and second days.  Ciela, who has finished her meal and departed, has been here three months now.
The visiting of disparate travelers is a delight.  Rohan and David have been on separate journeys, and had encountered one another a couple of times.  Rohan is leaving at midnight, David two days later, but heading next for Australia where he has a job waiting.  Last year I traveled many of the same paths that Rohan has just completed; we talk of where he has just been.  Laura soaks it all in as she considers plans for her next months.
When we have all eaten, we head together for the craziness of Khao San.  Eventually dark approaches.  I say my goodbyes and wander camera in hand finally back toward my bed.  It feels familiar and wonderful, being back in Bangkok.  The traffic is nothing to me now.  I have done my transition back into Bangkok.  My ear is attuning again to the rhythms and cadences of the Thai language.  I am happily moving my body from winter into summer, very grateful for the pleasure of Bangkok in the low 80s.  It will be much hotter soon.
24 hours after arriving, my plans are coming together, and I am feeling very happily at home.