I'd headed for Southeast Asia with a vague sort of a plan in mind.  I have been fascinated with the idea of seeing Burma. Because it has been an impossible destination, because friends who have gone before have been so impressed, because the photos of Bagan were so entrancing.  And because it is now possible - the NLD (National League for Democracy) has lifted their objections, because of all these things, would there ever be a better time?
With two months in Southeast Asia, I'd thought to see some of  Thailand and either Malaysia or Myanmar.  Myanmar is a rather demanding destination in terms of preparations.  One needs US cash in pristine condition sufficient for the entire trip – since the international banking community pulled out of the country in 2003, there have been no ATMs and credit card usage is possible only at a select few 5 star hotels, when the internet is working.  Entering and exiting the country is possible only by air (the limited exceptions are essentially irrelevant).  One needs a visa which could require acceptable answers to some of the questions.  Much of the country is off limits to foreigners.  And the rumors of government harassment of tourists  are rampant, if a bit exaggerated.
Through experience, I have come to understand that Myanmar is a more brutal and dangerous place for its own residents than for visitors, assuming one is circumspect in behavior.  The generals of Myanmar are neighborhood bullies who want everything for themselves rather than international terrorists.
As I considered these options during my first two days in Bangkok, I realized that obtaining that visa was the crucial link and, as one must appear in person at the embassy on a non-holiday, weekday morning, it was most sensible to get that part of the plan underway on my first weekday in Bangkok.  Thus it was that I was headed for the Myanmar Embassy at 7 am on Monday morning.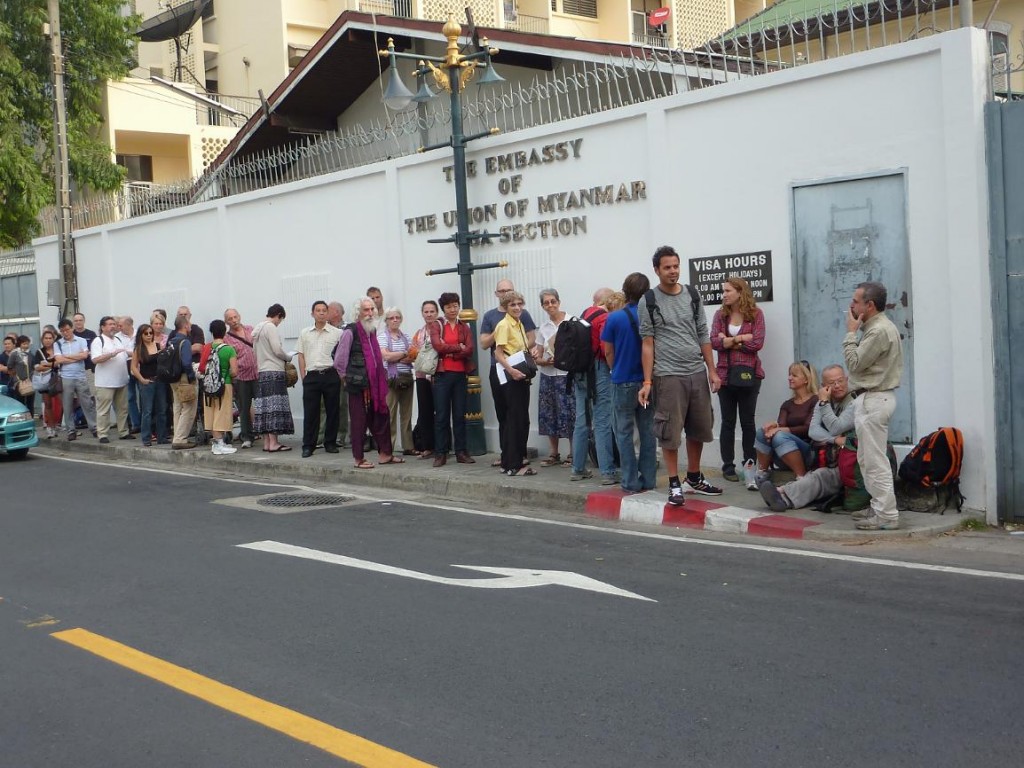 The embassy opens for visa applicants at 9 am.  By 8:30 the queue was well past the end of the building.  Well prepared by reading about the process online, I had obtained the proper forms from the copy shop down the street and by the time the door opened had the filled out form, passport copy and photos ready.  This preparation made the process relatively simple – three lines and a half hour later I had completed the expedited Visa application process and was headed out to pass the day til afternoon when I could pick up my passport and Myanmar Visa.
Well, having that Visa in hand changed my perspective completely.  So much for the plan to head first for northern Thailand – that would still be there when I returned from my 28 allowed days in Myanmar.  By the next afternoon my flights were booked and two days after I was on my way.
At the time I felt it made better sense to transition from Burma to Thailand and then back to the US.  This was a true realization – after Burma, Thailand seems almost too civilized.
——————
skipping merrily on past Bangkok to Myanmar:
posts from Burma