One of the things I love about independent travel is the more compact form that life takes.  There is a sort of unwritten rule which suggests that, most of the time at least, one should be able to carry all one's possessions.
It is 'legal' (so to speak) to park extra things at a central location – the favorite guest house in Bangkok for example – or to ship parcels home.   Bangkok Guesthouse Garden
By going through Bangkok at intervals, and also last, an extra bag can be filled with purchases or with things which are not currently needed and can be left at the Bangkok guesthouse. For the flight back to the states,  two 20 kg bags are allowed.  The cheap plastic zip bags are actually very strong and are fine to use for all the extra things acquired along the way.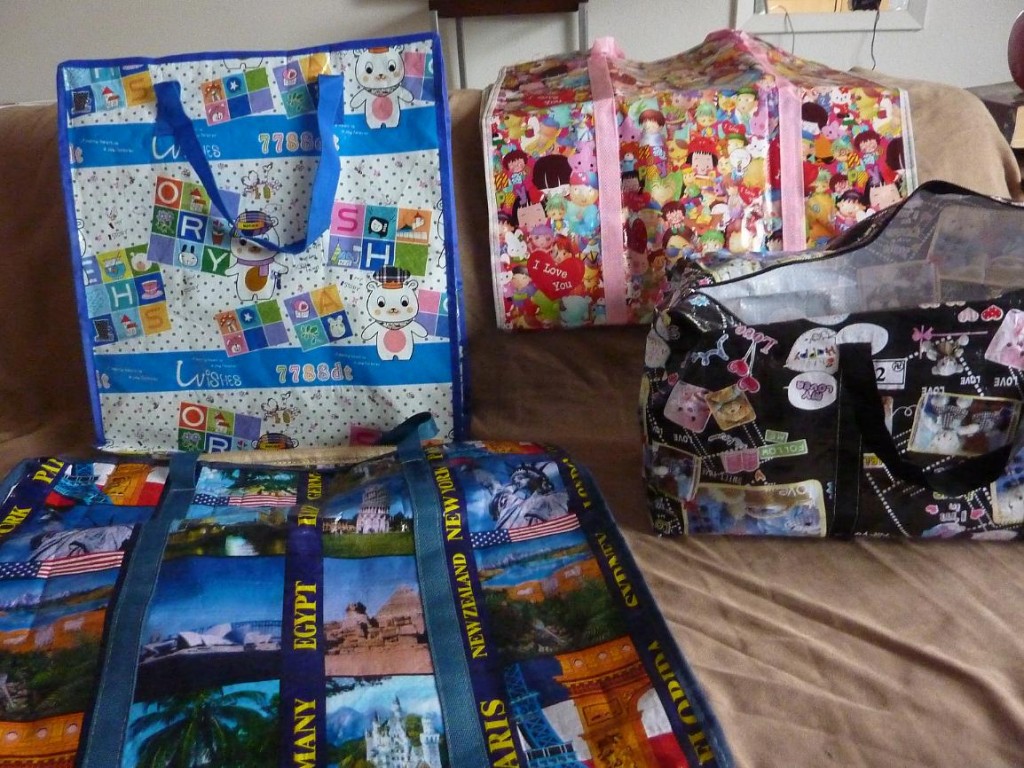 But when I get home, all is simple.  Unpack the purchases from the plastic bag (lower left, above).  What is left, from the main pack, are the basics – the relatively few items of clothing which were necessary, a large packet of medications, some techie support items (chargers, cell phones, extra camera cards, skype headset, mp3 player),  a lightweight roll-up day pack, headlamp, a pile of books and maps, a packet of spare pens and mini notebooks, and then the very few things that it turned out were not needed.
I photograph all the unpacking in hopes that next time I will remember to use the photos as a check list.   It is all simple pared down.  for it all must be carried.
At home I look at the piles -  so many different items, but very little of each.  For clothing – one jacket, one vest, one mid-weight fleece, one light fleece; three long pants and one shorts, three long sleeved shirts, three short sleeve, two tanks.  Just enough to address cold weather by layering.  A bit of underwear and socks.  A bathroom kit.
Two months of doing laundry at night.
And as I unpack from two months of living so simply, my  surrounding life feels too complex.