What can I say about Burning Man and especially the art this year?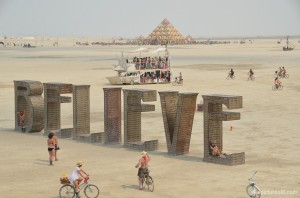 I can think of a few words – like amazing, fantastic, sublime, thought-provoking, gorgeous. But these pale efforts come nowhere close to how the art this year affected me.
Was it the wonderful light that makes these memories so impossible to describe? Though I had dreaded the effects of the smoke from the Yosemite Rim Fire, it turned out that photographically the light was great.
Was it my frame of mind? – for this year I felt improbably happy in my Other Life.
Was it my companions, my camp site? Probably a reasonably large factor.
Was it the generally happy, positive attitudes of the attendees this year? After so many people missing out in 2012 due to the ticket-lottery mess, people seemed determined not to miss out again this year. It just seemed that so many of us were so deeply happy to be there, in Black Rock City.
Was it all the Burning Man Virgins who fit in so well, they seemed to be old-timers?
Was it the quality of the art?
Was it the pain of ingress and exodus? Odd I know, but wonderful things may require some suffering, and perhaps the dues paid make the good times that much more valued.
Ok, well I don't know just why this year was All That. But I do know it was.
In this first blog post on Burning Man 2013, I know you don't want to be bored with words. You want pictures. You want to be there. So here is a first little dose. These are images I need some help with – bits of playa wonder that need names. If you know the name of any of these installations and/or who the artist is, puleeze tell me. These wonderful people who bring the playa to life with their creativity need to be recognized and thanked. So thanks in advance to you artists and your build crews, all of you.
This prominent sculpture had a distinctive presence out near 2 O'Clock. The dawn sun reflected beautifully from its hammered metal legs. Despite studying the art placement map and examining a variety of photos, it remains a mystery.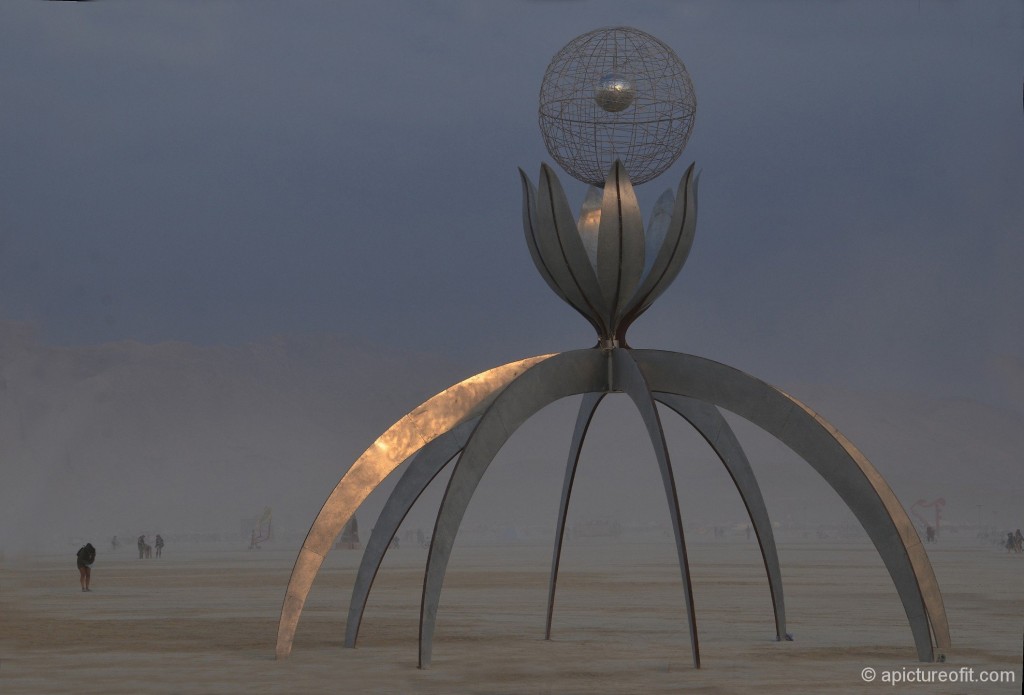 One mystery solved, five more to go. From the artist, South African Michael Hayward "The steel flower with globe is called Vision Quest, representing a peyote cactus in bloom, and was part of an installation of Afrikaburn artists."
With Black Rock City always under either construction or breakdown, I had assumed this was just a storage and transport container surrounded by someone's construction debris, but the more I look at it, the more I believe it was more than that. Is this, in fact, an art installation with a name? Maybe, maybe not. At BRC, you just never really know.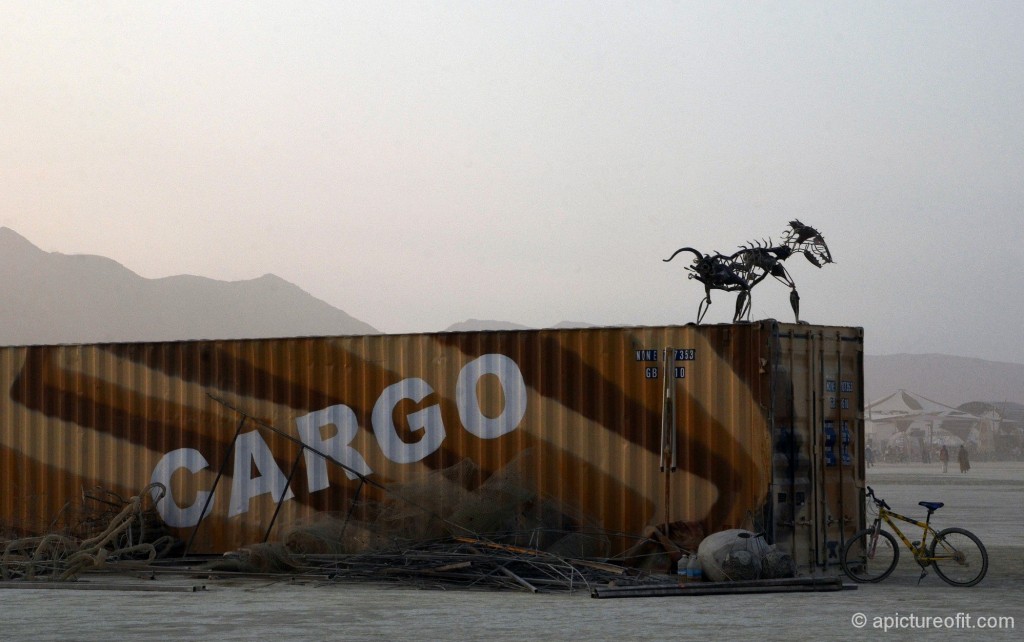 Aha, another mystery bites the playa dust. From Liz with AfrikaBurn: "[for the] AfrikaBurn fire collective show, we sent a forty foot container (Cargo, featured in your pictures) filled with metal kinetic sculptures. The metal 'farting flaming' dog atop the container is made by Charl Bothma."
This next small installation was a very popular spot for weddings, which leads me to think it may be 'Wedding Chapel at the End of the Universe' which was built by dan das mann. Can anyone confirm this identification?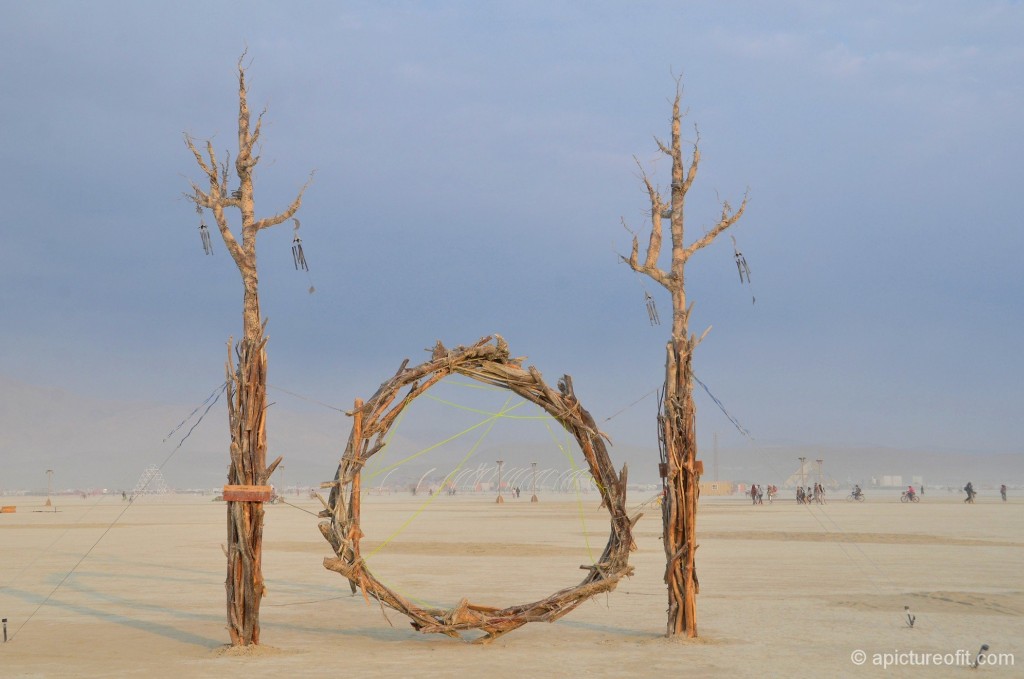 A very cool wire installation, looks like it is meant to represent Aries god of war. Or something. I am hoping to learn the name, and artist, for this piece.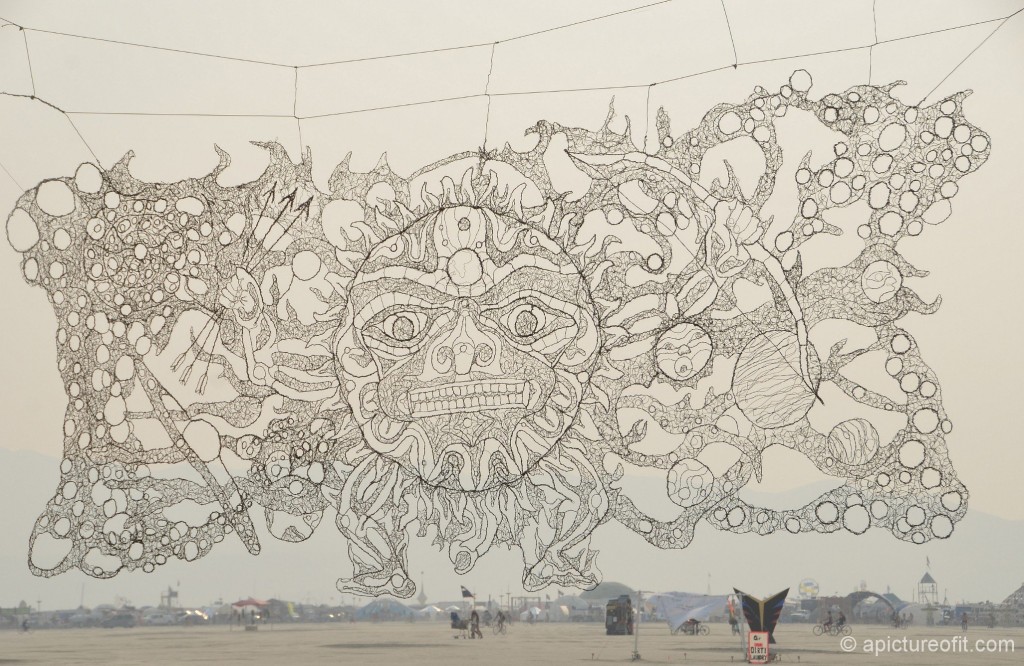 There were a couple of flowery installations. No name for this one yet – I suspect it looked amazing at night.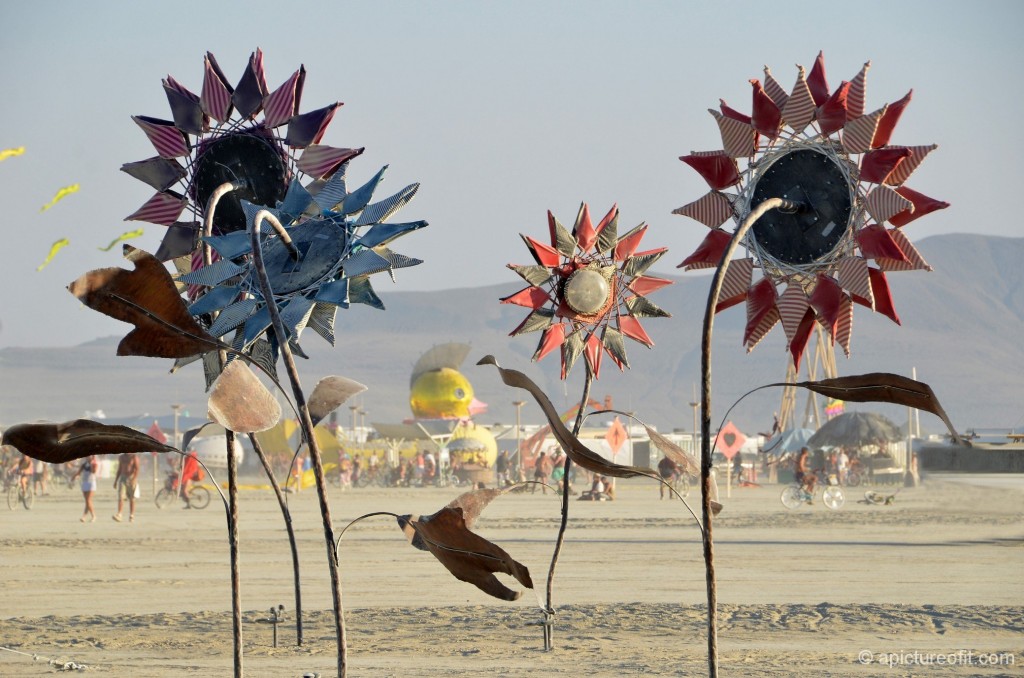 The other flower installation is 'Singing Flowers' by Krystal Perkins & Colleen Pelech. The petals of the flowers are helium filled balloons and the stems are formed of recycled aluminum cans and other pieces of found metal. 'Walter,' VW Camp's giant Volkswagon van art car, is passing by while the artists do maintenance on their installation.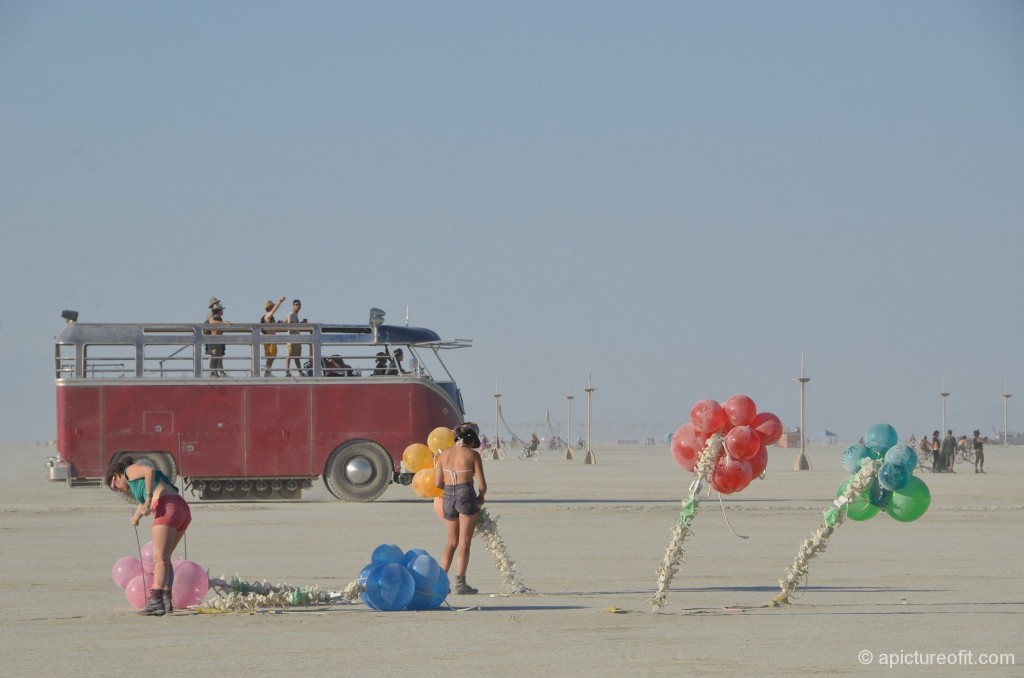 Some art you photograph because it is in the right place at the right time. This unidentified airplane was flying away from the rising sun.