Options for short-stay tourist accommodations in Cuba are of three basic types.
1. Hotels, of varying degrees of comfort.
2. All-inclusive resorts (in the beach areas) where meals, beverages and beach activities are all included in the daily rate.
3. The casa particular (translates as 'private house').
Less commonly encountered options include motels, apartments and camping facilities.
The Casas are more or less equivalent to Bed and Breakfast accommodations. Breakfast, and or dinner, will be available though both will usually cost extra. They typically have rooms upgraded to visitor's standards. This means the room will have air conditioning (Cuba can be HOT) generally a private bathroom and a hot-water shower, with toilet paper, soap and towels provided. The toilet will also have a seat. That might not seem worth mentioning, but once you've traveled awhile around Cuba you will realize how noteworthy a thing it actually is.
All casas must be licensed by the government and they must report the number and identities of their guests promptly. Prices are reasonable – generally much less than hotels – and often the guest has a chance to live in the house with the family.
So where, then, to stay in Havana? There are several areas of Havana which offer many options for the visitor, but there are three adjoining areas which have the greatest selection and convenience. The three are contiguous and located along the northern shore of the city. Furthest west is somewhat more upscale Vedado; furthest east is the tourist-dominated Havana Vieja which contains most of the major tourist sights in the city Between them lies Centro.
If you choose to stay in Vedado, it is likely you will be taking taxis most anytime you want to go anywhere.
If you stay in Vieja, most of what you will want to see will be very convenient, but you will be completely immersed in an environment which is populated by, and oriented toward, tourists.
We chose to stay in Centro.
Some people we talked with found Centro to be an uncomfortable environment – it is real and at many times gritty. It is populated by cubanos just living their lives. But in fact, that was exactly why we chose to stay there.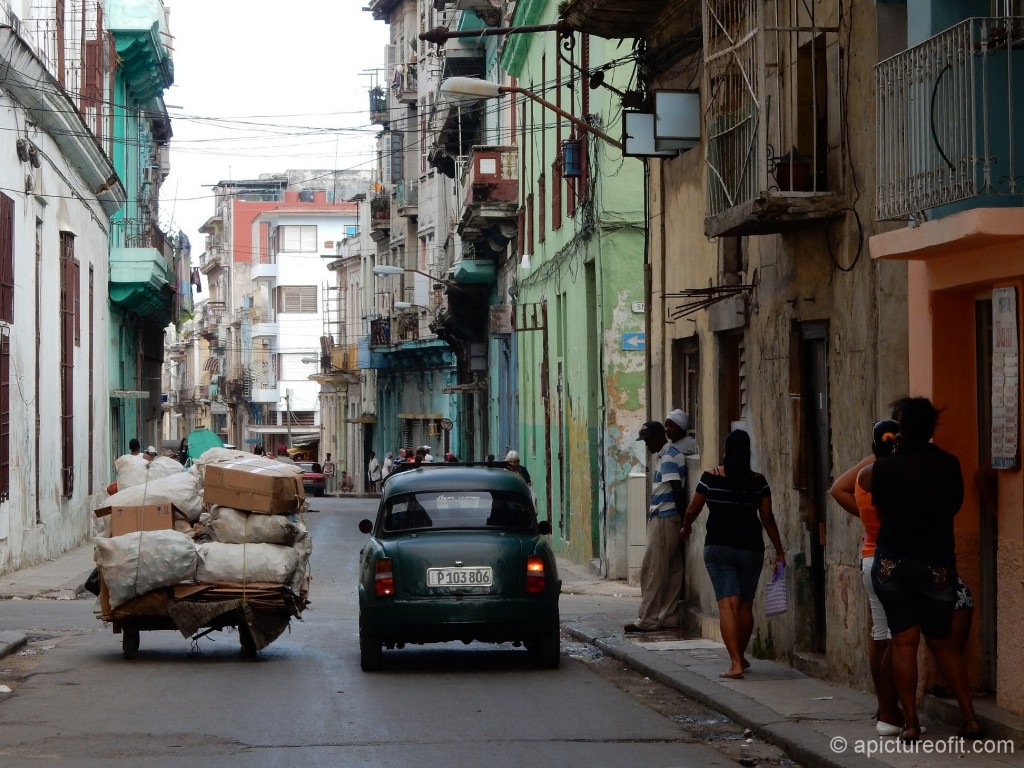 We walked a lot, and enjoyed every moment of it, taking different streets every time we headed out to expand our storehouse of visual impressions. It didn't take us long at all to reach the buffed up environment of Vieja, but the time we spent outside of Vieja greatly informed our view of Havana.
More views of life in Habana Centro coming next.